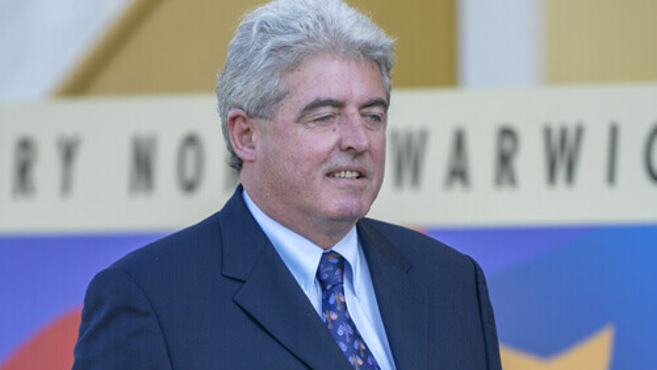 Victorious Ryder Cup captains Sam Torrance and Paul McGinley are among many from the world of golf to pay tribute to John O'Leary, an Honorary PGA Member who has died at the age of 70 following a long illness.
John, who was born in Dublin in 1949, also represented Great Britain and Ireland in the Ryder Cup, earning selection for the 1975 match at Laurel Valley Golf Club, Pennsylvania, USA, four years after turning professional.
His first of two European Tour victories followed in 1976 when he finished three shots clear of South Africa's John Fourie to win the Greater Manchester Open at Wilmslow Golf Club, Cheshire.
The highlight of John's playing career, however, came on his home soil when he won the 1982 Carroll's Irish Open at Portmarnock Golf Club, overcoming Maurice Bembridge by a shot.
The star-studded field also included Sir Nick Faldo, Bernhard Langer and Torrance who, paying tribute to his close friend, wrote: "So sad to hear of the passing of one of my dearest friends and room-mate for 10 years on Tour. RIP my old pal John O'Leary."
John's victory at Portmarnock made him only the fourth Irishman to win the event and another 25 years would pass before another compatriot, Padraig Harrington, lifted the trophy.
Appropriately the three-time major winner received it from John, a man he described as a "legend of Irish golf" on hearing of his passing.
"He always had a kind word to say and gave you advice without preaching," Harrington added. "He was a larger than life character whose stories will live on."
Harrington's success in the Irish Open came a year after the Ryder Cup was staged in Ireland for the first time – a scenario that John played a significant role in achieving for his homeland.
Having chaired the Tournament Players Committee during his playing days, he became a Ryder Cup official in 1985 and attended his final meeting in March last year.
The 2006 match at the K Club came seven years after John's retirement as a touring professional and victory for Ian Woosnam's team completed an unprecedented hat-trick of wins for Europe.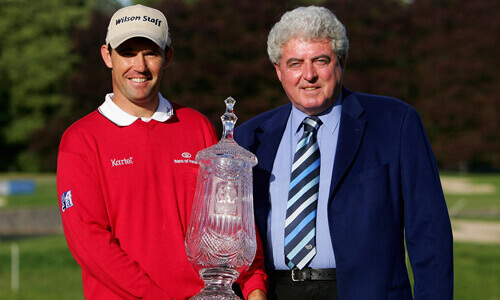 That sequence had begun at The Belfry four years previously when many other former Great Britain and Ireland and European players were invited to the opening ceremony.
"John, Dave Thomas, Norman Drew and Max Faulkner were among them," recalled Dr Philip Weaver OBE, PGA chairman at the time. "They were presented to the crowd and each received miniature replicas of the Ryder Cup.
"It was a practice Tony Jacklin started when he was captain in 1985 – since then each player has received a miniature Ryder Cup to commemorate their participation and John, along with the others, was delighted to be included."
Dr Weaver had previously got to know John while competing on the European Tour and added: "He was a colourful character, a lot of fun and a great storyteller. He also wore colourful clothes and, sporting a huge Afro hair-style, couldn't be missed on the course."
McGinley, who masterminded Europe's victory at Gleneagles in 2014, also remembers his fellow Irishman and great friend's dress sense.
"John was always a dedicated follower of fashion and all-round great guy," he wrote.
Those sentiments were echoed by Peter Baker, the head PGA Professional at South Staffs Golf Club and a member of the 1993 Ryder Cup team who began competing on the European Tour when John's time on it was coming to an end.
"I remember my first week on Tour and the first words John O'Leary said to me," he recalled. "'If you need anything or if I can help you, just ask me. I'm sure that you are going to have a great career.' Pure class. RIP Johno."
John was similarly supportive when it came to his dealings with The PGA and chief executive Robert Maxfield added: "He really valued being an Honorary PGA Member.
"And the support and advice he gave during his time as a Ryder Cup official was invaluable. The PGA has lost a great friend and we send our deepest condolences to Sue, his wife, as well as his family and many, many friends."