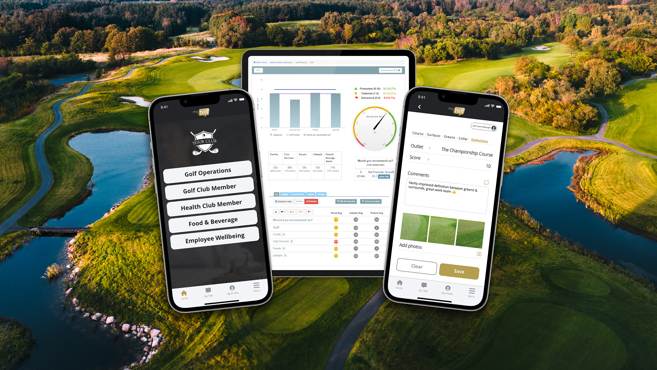 This multi-functioning app captures live performance data submitted by the management team, employees and club members, supporting the venue to make informed decisions to elevate standards, satisfaction levels, retention, and profitability.
The management team through their use of the app can log observations during their daily departmental evaluations, both on and off the golf course.
With technology and convenience at the forefront of development, managers store data within measurable pre-set categories - spanning golf course and practice area presentation, maintenance and amenities, retail and front of house management, and employee behaviour and well-being - meaning paperwork, email trails, group chats and the constant transferring of images becomes a thing of the past.
Complete with the ability to share live performance reviews with the team, set targets, track accountability, and monitor progress over time, the app fulfils every need.
A number of industry professionals supported the development of the new app, and they were all quick to praise 59club for the benefit the app would bring to the industry, as well as to them personally, one of those individuals was Martin Hucklesby, General Manager of Teignmouth Golf Club. He said: "Managing a golf club in my view is like any other service industry, it should be driven by its standards.  
"The vastly different areas of expertise required to be able to measure, manage and record 'a score' to these standards has always been something that as a general manager I have done via a spreadsheet as I have walked through the club and course.
"Now with Mytell and using technology, I am able to do this via an app. It is brilliant, highly recommended and is on the front page of my phone!"
It's not just management who stand to benefit, the app also controls member feedback across golf, health and recreation.
Whether a club chooses to invite all club members, or limit its users exclusively to those within the management team or a particular group, the app will store and channel feedback along with supplementary ratings, comments and images to the relevant department.
59club Director and the technical brain behind the app's content and development, Mark Reed, commented: "Anyone who is responsible for the daily delivery of club standards and ensuring member and guest satisfaction, will tell you that paper trails and breaks in communication detract from getting the job done and serving customers well, but now with the launch of our new mytell app, we believe we have the solution.
"But it's not a one-size-fits-all solution; each venue can create its own bespoke, white-labelled experience, ensuring it retains control over which elements of the business its users can submit data around.
"The app also contains the facility to create and customise subsidiary outlets, if, for example, the property has more than one golf course, fitness studio, or restaurant.
"From a member's perspective it gives them an unprecedented opportunity to give praise where it's due and highlight where they feel they are not getting value for money. The mutual benefits are numerous."
The easily navigable app - available on both Android and iOS platforms - tracks trends, monitors patterns of performance, whilst generating statistics for periodic reviews.
For further information on the mytell App, or any area of 59club's industry-leading service, contact your regional 59club manager.