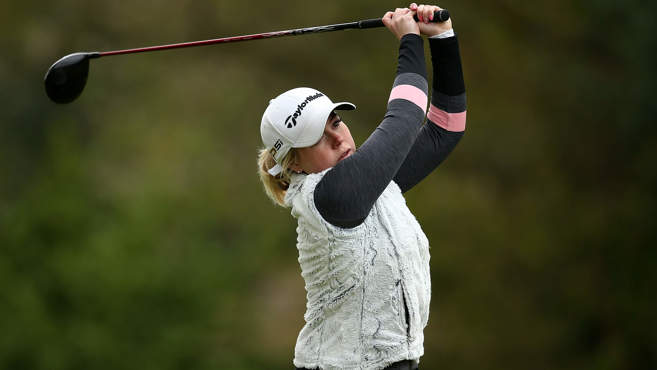 After studying in California, via her home club of Chelmsford then Royal Mid-Surrey, Alice Hiluta has taken up the role of PGA Golf Development Manager at Pachesham Golf Centre.
Introduced to the game of golf at an early age by her dad and brother, Alice Hiluta has gone on to forge an already impressive resume working at courses like Chelmsford and Royal Mid-Surrey.
Now though, her attention is on Pachesham Golf Centre, with the PGA Golf Development Manager already making a huge impact at the Surrey-based layout.
What was your early career like?
I attended Mt San Jacinto College in America, which was a great opportunity. I then kind of took a step back and went and got a job in London, but I found it boring so I asked myself: 'What would I really enjoy doing?' That led me on to coaching. Previously, I'd completed some work experience in my local professional shop and thought I'd really enjoy helping people play golf, so I took the leap and completed my PGA training.
In my first year, I was based at my local course, Chelmsford. For my second and third years, I was fortunate to join Matthew Paget at Royal Mid-Surrey, a club which has a thriving ladies' section and gave me the opportunity to coach for 25 to 30 hours a week in a fantastic environment.
How did you hear about the Royal Mid-Surrey role?
A couple of people in the industry had mentioned my name to Matthew and he approached me about making the move to south-west London. I was very quickly thrown into the deep end, not just with coaching, but also working in their busy professional shop, dealing with the sales and retail side of things. Royal Mid-Surrey was a great place to learn, and it really brought me out of my shell in terms of developing my coaching, knowledge, and understanding of the game.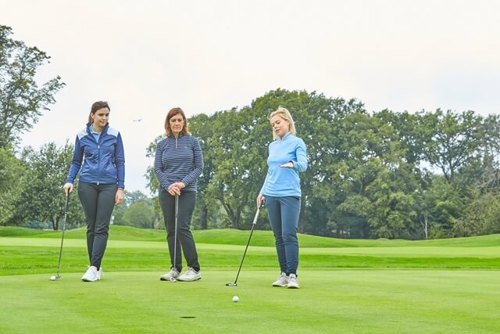 How is the new role going at Pachesham?
It's going really well! I started working at the club in August 2021 and it's been fantastic. We've had our best quarter so far, and we've definitely improved our services and what we offer. Ladies' coaching is available four days a week now and we have 60 ladies who are part of that association and regularly attend our roll-up sessions. We're also offering the Girls Golf Rocks scheme again this year and we've forged links with a number of local schools in the Leatherhead area, which is terrific. My passion for ladies and junior golf makes this role perfect for me.
How does the role differ to that of your previous job at Royal Mid-Surrey?
It's very different. We have a great base here at Pachesham, which is a public play and practice centre with a six-hole golf course that includes a 28-bay driving range facility and short game area. So, it's really about going out into the local community, reaching out to schools, places of work, and developing our connections that way, as opposed to a membership format. I've had to learn to develop in terms of how we reach out to people. We do lots of newsletters, lots of free events and really try and get people through the doors to show them who we are and what we can do to help their game. In this new role, I don't do as many hours within the shop and on the coaching side of things; I spend more time on the other side of the business, promoting, marketing, and developing golf programmes for both women and juniors.
What initiatives have you instigated at Pachesham?
This summer we have the Kids School Fete, which involves five local schools coming down for a day to introduce them to the game. It's at a grassroots level and gives the students an opportunity that they might not normally have. Pachesham's course has also just been rated, so we're looking to be able to provide an academy system and structure. That's obviously really exciting because I've always wanted to be able to say to people, you can get a handicap here and then choose how you want to progress. You can play golf elsewhere, or you can stay here and then take your handicap wherever it might lead. That's something which is really good for us. I am highly organised and like to be quite hands-on with these sorts of things, so making sure our year is planned out and there are promotions lined up and events in the diary is really important.
What are your goals in the role?
My number one priority is to increase participation numbers and accessibility. I can only see the game continuing to grow, especially the ladies' game, with initiatives like Girls Golf Rocks, the Women in Golf Charter, and many others being introduced. There are so many good people within the industry who are talking about it, which is amazing. We're at the forefront of something that will be very important for golf in the next few years.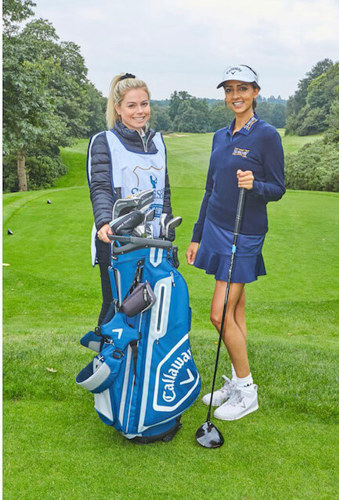 How does the role fit into your career path?
I see Pachesham being a long-term project as I continue to develop my career. Currently, I'm focusing on golf development and managing people at the same time. Nowadays, being a female within the industry is really important and exciting and I would love to see how far I can go with this role. I have an idea of what I would like to achieve but putting back into golf and leaving a legacy that would mean more people playing the game is my number one goal, which is why Pachesham ticks all the boxes for me.
ALICE ON CHANGING JOBS AND BUILDING HER CAREER
How did you hear about the new role?
The Matthew Paget Group has 37 employees within it and Matthew runs four golf shops. The position of PGA Golf Development Manager came up and it was raised to all of us. Those interested were asked to do a presentation on what the role would be, what they would do with it and where they saw Pachesham going. It's probably more formal than just applying for a job externally and it's quite a different role within our business because the group has three private members clubs, whereas this is public.
What do you think set you apart for your new role?
I'd experienced quite a lot of coaching at Royal Mid Surrey, but, prior to that, I had worked within the recruitment side of things where you have to be highly organised and able to communicate well with people. Being an experienced PGA coach, being organised and knowing the job at hand, and then being motivated by the fact that it isn't going to come easy probably set me apart.
What advice would you give to someone thinking about going for a new job?
I would say definitely go for it. If it feels a little bit out of your comfort zone, it's probably a good place to be. For me, I've really enjoyed the challenge of having something new, something so completely different like private to public. You get to test out new skills and develop yourself as well.