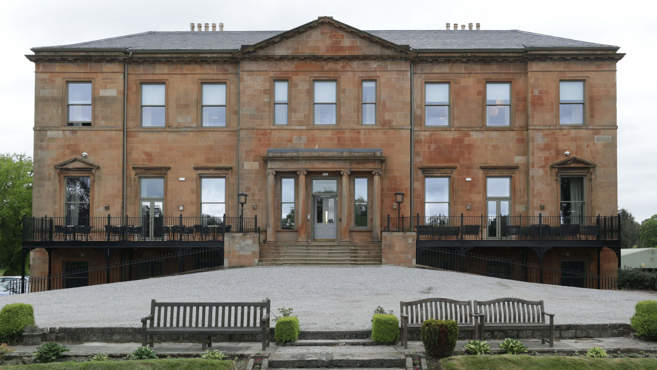 It promises to be quite the weekend at Glasgow Golf Club. A fully subscribed Pro-Am on the Arnold Clark Tartan Tour this Friday will tee-off the festivities as the world's ninth oldest golf club celebrates a new lease of life.
It was all very different four years ago, of course. A raging fire swept through the listed, Georgian clubhouse and caused ruinous damage to this grand, historic edifice which has been the club's Killermont HQ since 1904.
"The outer shell remained but inside was pretty much destroyed," reflected the club's vice-captain Donald Neilson, who is part of the organising committee for this weekend's activities. "It was a devastating time. The fire hit, then Covid hit to compound the difficulties."
From the ashes, however, this Bearsden golfing institution emerged with more than just a new clubhouse.
"We used it as an opportunity to build the club for the future," added Neilson of a club which was instituted back in 1787.
"We went from being a male-only club to an all-inclusive club for all genders and all ages. We are much more family orientated now than it was before. We were moving towards that but the process was pushed on its way more quickly because of the fire.
"We have 70 female members now and around 50 junior members. There are 70 to 80 associate members between the ages of 18 and 30 too so it's a good mix.
"Everyone realised that if we didn't change we would struggle moving forward. It's a reflection of modern life and we couldn't be left behind. This weekend is a celebration after a very trying spell."
In addition to a Pro-Am featuring 42 teams – host club pro John Greaves will be among the Tartan Tour stalwarts competing - one of Scotland's finest women golfers, the indefatigable Belle Robertson, will officially open the new clubhouse with the original key from 1904.
Lady Macfarlane, whose late husband Lord Macfarlane was a loyal and generous supporter of The PGA, will help perform a ceremonial tree-planting as Glasgow Golf Club acknowledges its past and looks to the future with renewed vigour.
"I've been a member since 1982 and I've seen a few changes down the years," said Neilson. "These last few years, though, have possibly been the most significant in the club's history. We have rebuilt the clubhouse and changed the constitution. It may have taken us longer to get to this stage but the fire accelerated the process and it's for the better."