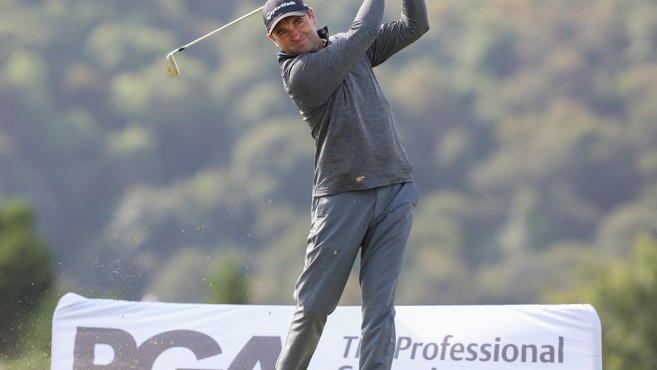 Sion Bebb rolled back the years to win the PGA Professional Championship West qualifying round at Burnham and Berrow Golf Club.
The Welshman, who won the PGA Professional Championship title at King's Lynn in 1999, surprised himself with a two-under-par round of 68 at the Somerset venue.
That earned him the top spot, a shot ahead of Christopher O'Neill of Cardiff Golf Club, and Newquay Golf Club's Chris Gill.
They will join nine other qualifiers from the Burnham and Berrow event who will play in the £69,500 final to be held at Blairgowrie Golf Club in Scotland between June 15-18.
Bebb, a three-time Welsh PGA Professional Championship winner, thanked the members of Merthyr Tydfil's Morlais Castle Golf Club for preparing him for the event with nine-hole sessions.
"I hadn't played a full 18 holes since the end of October," he said. "I've been playing nine holes with the members every Wednesday evening for the last month.
"That's the only golf I've done, so I wasn't expecting much here. So I thank the members for dragging me round. If it wasn't for that I wouldn't have shot two-under-par, that's for certain.
"They've definitely served me well. I've been hitting balls on a simulator - that frees you up but there's nothing better than playing on the course, you need to get out and do that. But that was the calmest I've seen Burnham over the first nine holes."
Bebb claimed the Welsh title in 2005, 2006 and 2017 and, since turning 50, has won the Welsh PGA Senior Professional Championship twice - in 2019 and 2020.
He returns to Blairgowrie next month and says he has good memories of the Perthshire venue - he finished fifth when the PGA Professional Championship final was held there in 2014.
"We went up there as a family," he recalled. "I played the tournament and they visited the local castles, so we'll do it all over again. I did well in that final and I won it a long time ago now in 1999.
"The last year has been difficult but now it's busy again at the club. I'm optimistic that golf will bounce back, it's booming, we've had 150 new members since June."
| | | | |
| --- | --- | --- | --- |
| Position | Player | Club | Score |
| 1 | Sion Bebb | Morlais Castle Golf Club | 68 (-2) |
| 2 | Christopher O'Neill | Cardiff Golf Club | 69 (-1)  |
|   | Chris Gill  | Newquay Golf Club |   |
| 4 | Adam Constable | Cardiff Golf Club | 70 (E) |
|   | Michael Bullen | Rustington Golf Centre |   |
|   | Russ Berry | Broadway Golf Club |   |
|   | Ross Langdon | Brickhampton Court Golf Comple |   |
CLICK HERE to view the full leaderboard from the PGA Professional Championship West qualifier.