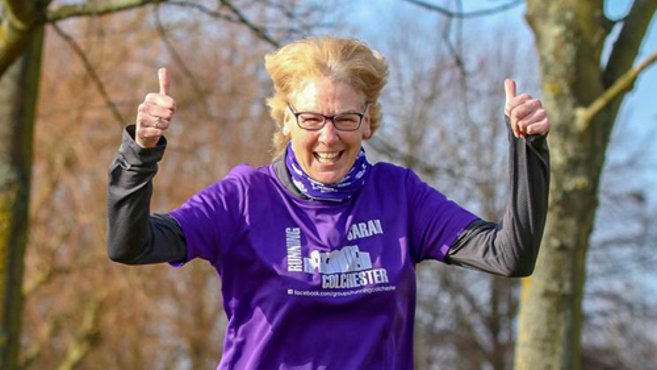 PGA Captain-elect Sarah Bennett has put her best foot forward to complete a half-marathon and taken the total she has raised to fund research into a rare form of cancer to £32,000
The PGA Fellow Professional, who is the head teaching pro at Three Rivers Golf and Country Club in Essex, completed the annual Colchester Half Marathon in two hours 35 minutes.
In doing so she added another £2,300 to the amount she has already raised in her quest to help medics beat thymic carcinoma, a rare form of cancer that affects fewer than 10 people in the UK annually.
Bennett began her fund-raising efforts after her close friend Wendy Lodder succumbed to the condition in 2018.
The 52-year-old was in familiar territory at first, raising £30,000 from two golf days.
But she had to step way outside her comfort zone and pound the streets of Colchester to generate the next £2,300.
Having signed up for the challenge in January her participation in the virtual event was in doubt when she suffered a foot injury three weeks beforehand.
"The break from running did the trick," she explained. "But that went totally against the training protocol.
"I hadn't done anything remotely like this before but fortunately paired up with a lady from Running Colchester which was fantastic. We helped pace each other chatting non-stop for the first 12 miles then she went a bit quiet!
"I chose our route passing my and a family member's house just in case we required any assistance - fortunately a wave was all we gave as we ran past."
It added up to not only a rewarding exercise for Bennett but also an enjoyable one. So much so she appears to have been bitten by the running bug
"I really enjoyed it," she said. "When we finished we were greeted with helium balloons tied to the wing mirror of my car, which was a total surprise.
"I'd certainly do it again. I'm a competitive person and I would like to run the distance in less than two hours and 30 minutes.
"I'm taking part in my first ever 10k race in May – the Colchester Stampede which thankfully is shorter."
Inevitably thoughts of taking part in the London Marathon have crossed Bennett's mind but prior to that her fundraising campaign will return to tried and tested ground.
"The third fundraising golf day is being held at Colchester Golf Club on September 10," she added.
"It's a very special venue as this is where I started my golf career and it's the club Wendy was associated with in her final few years."