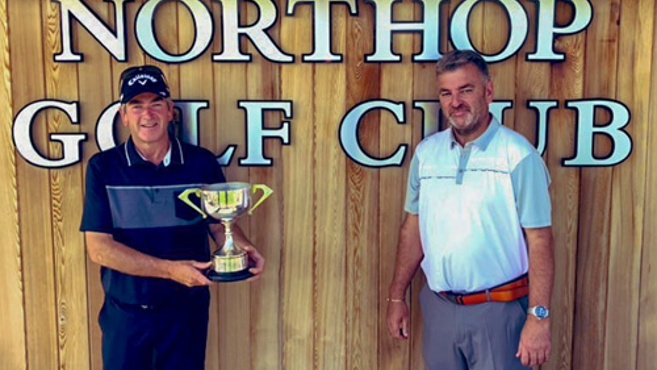 Garry Houston's golf matched the late summer sunshine as he won The PGA in Cheshire & North Wales Open at Northop Golf & Country Club.
Houston, a last-minute entrant who represents Carden Park, posted a five-under-par round of 67 to finish two shots clear of PGA Cup team-mate Phil Archer and Royal Liverpool professional Michael Jones.
However, there was a bittersweet feel to the victory for Houston, a local boy.
"Growing up a stone's throw from the course, I have played it many times and always feel comfortable here," he reflected. "But the thing missing from my victory today is family.
"It's the first time my mum and dad haven't walked round watching me as they both recently passed away."
Houston's performance surely would have brought a smile to his mum and dad's faces as he left the 31-strong field in his wake in negotiating the short but tricky course.
There was just one blemish on his card – a bogey at the par-three 14th which was more than counter-balanced by six birdies.
Afterwards Houston was fulsome in his praise for the course, the club and its greenkeepers.
"The course played really well and all credit must go to the club and greenkeepers for that during this tricky time," he said.
Matthew Pritchard the club's pro and PGA North captain (pictured presenting the trophy to Houston) added: "Over the last few years of hosting the Cheshire & North Wales Open it has been fantastic to see the event attract more and more local players.
"This has been a tricky year for everyone but we look forward to hosting the event in 2021 and welcoming The PGA back once again."
A full list of scores can be accessed here