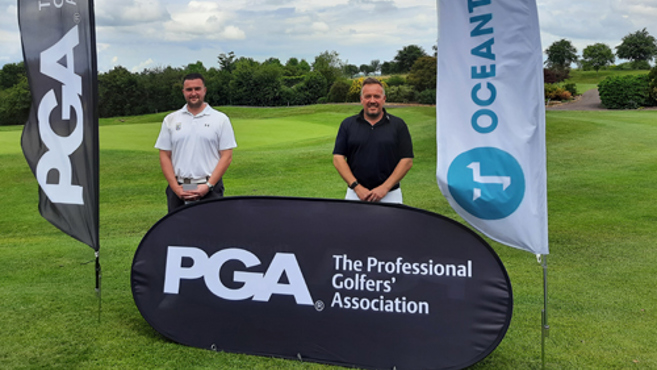 Aircraft engineer Tom Williams and Caerphilly Golf Club head pro Darran Clark have booked their places on an all-expenses paid trip to Turkey by winning a PGA National Pro-Am Championship qualifier.
Williams, 25, and Clark (above right) racked up 45 points in the Stableford format event at Cumberwell Park, Wiltshire, to edge out Filton Golf Club's head PGA pro Giuseppe Licata and his amateur partner Phil Rich.
As a result the Welsh pair will now take their place in the £25,000 grand final at Antalya Golf Club, Turkey, in November.
Reflecting on his round, Williams (above left) said: "I had a nett birdie at the 18th and played solid on the back nine with a couple of birdies and a nett eagle, they were all mine.
"We definitely thought we were in with a chance of winning when we looked at the leaderboard near the end, we just needed another birdie.
"But the fact that we're now going to Turkey for the final hasn't really sunk in yet.
"One of my best friends lives out in Dubai, so I played golf there a couple of years ago, but that was just friendly competition, nothing like this will be.
Williams, who plays off nine, has a lifelong connection with Caerphilly and started playing there as a youngster.
"I started back there about four years ago when some of my football mates joined, it became a social thing," he recalled.
"When I was a kid it was just me and another mate who played, I've been there all my life and I live about five minutes from the golf club."
CLICK HERE for a full list of scores