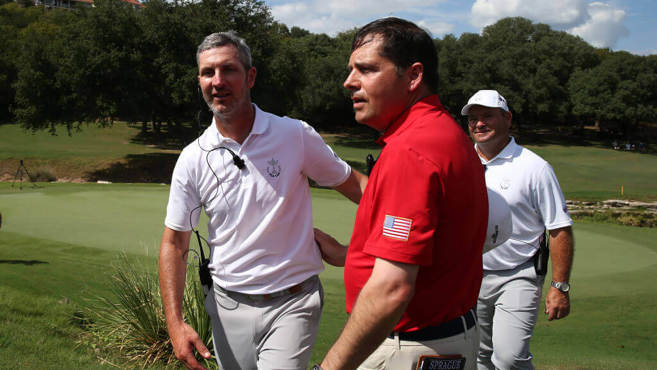 All throughout PGA Cup week, Captain Cameron Clark will be providing a daily update from inside the Great Britain & Ireland camp ahead of the 29th PGA Cup matches at Barton Creek Resort in Austin Texas.
I'm hugely disappointed. We had such a great two sessions on the Saturday to get ourselves into such a great position. Whether we got a little bit too complacent I don't know. I think we all knew we had a job to do but it just didn't quite happen.
The boys will probably admit they didn't quite play how they know they can play. The United States team held a lot more putts than we did and chips, we just never really got on any sort of roll and didn't get any momentum going. 
The team feels really down. They feel like they've let us down but we're so proud of what they've achieved. They got themselves in a fantastic position.
It's been a fantastic experience. The way they've hosted us has been brilliant. The golf course has been amazing, the way we've worked as a team has been brilliant and I don't think we could have done anything differently. The guys all came into the event on form so it was just one day where it didn't quite work.
This has been huge for me. Anyone who captains their country in any sport is huge. I couldn't have been prouder standing up there during the opening ceremony on Thursday. I'm very proud of my team. It means so much to be looking after a team of friends. They all did brilliantly it just wasn't meant to be.
Saturday was such an amazing day. We couldn't have wished for anything better than that. We put ourselves in a position to go and win the match and we didn't quite do it, but Saturday was the highlight.
I would love the chance to captain Great Britain & Ireland again put that's probably not going to happen, but I've really loved every minute of this experience.