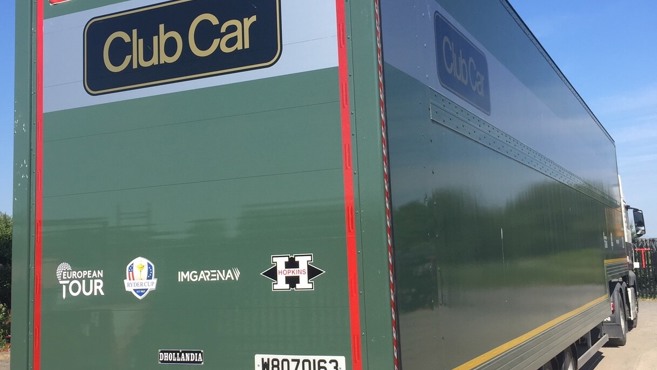 PGA Partners Club Car will supply an expanded fleet for the upcoming UK Swing to cope with the demands of a six-week run of back-to-back European Tour events.
Club Car, a global leader in golf, consumer and utility vehicles and a brand of Ingersoll Rand®, is an Official Supplier of the European Tour and will provide all utility vehicles through distributor Tractor Hire for the series, which begins on Wednesday, July 22.
The packed schedule and new safety guidelines pose a logistical challenge for Club Car. However, Tractor Hire has devised an intricate operation to ensure each tournament's requirement of Club Car vehicles is met. 
Freshly displaying the European Tour's new logo and strapline, the fleet comprises several different types of vehicle used by areas of the events such as Championship Management, rules officials and television.
In addition, two new double-decker transporter trucks have been built this year, bringing Tractor Hire's total to seven. 
An already complex operation has been further complicated by the need to meet Covid-19 guidelines, such as having only one driver per cab instead of two and needing trucks with sleepers because of hotels being closed.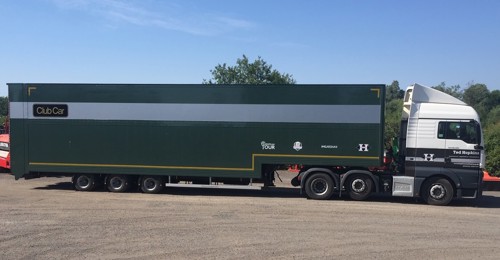 Chris Hopkins, Director of Tractor Hire, said: "We've reorganised the summer's schedule so there are now 115 vehicles in the European Tour fleet, split between staging, rigging, TV, rules officials and data.
"Normally the vehicles would be delivered to the tournament and then moved to the next tournament, but we can't do that on this occasion because the events are all back to back.
"The vehicles are a mixture of Club Car Utility vehicles - Carryalls with boxes on the back which are specially modified to carry camera equipment, Tempos and Tempo Lithiums.
"There are 44 vehicles for TV and they are designed to carry cameras and tripods. At other sporting events – like a football stadium or a race track – the cameras are fixed. However at a golf tournament, you don't know where the ball is going to land, so the cameraman has to be mobile so these are very important."
The UK swing begins with the Betfred British Masters hosted by Lee Westwood at Close House, near Newcastle in the north east of England. 
The Hero Open at the Forest of Arden Marriott Hotel & Country Club and the English Championship at Hanbury Manor Marriott Hotel & Country Club follow, before two weeks at the Celtic Manor Resort for the Celtic Classic and the Wales Open.
The series concludes with the UK Championship at the Belfry at the end of August.