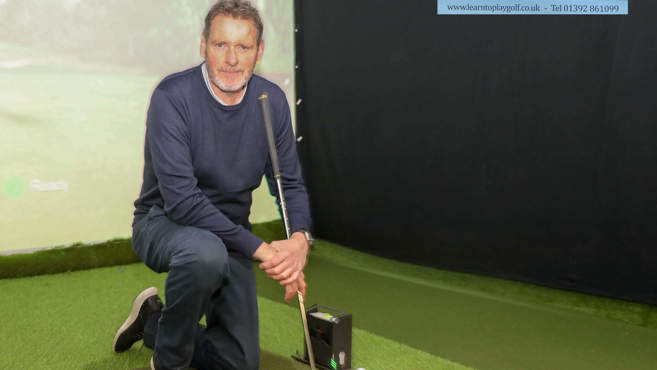 Converting a cowshed in the middle of nowhere into a golf studio is, no pun intended, par for the course for Richard Coffin.
"It's totally in keeping with my career path," reflects the 55-year-old who, as a teenager, harboured ambitions to become a PGA pro but took a circuitous route to get there.
"I managed shoe shops, got into sales jobs and was a golf rep for years – for Cobra and various other companies in the 1990s.
"Then I had a moment, jacked it all in, sold my house and blew all my money going round the world for a year."
Bookending this colourful CV is a stint working in the pro shop at St Mellion in Cornwall in his teens and qualifying as a PGA Professional three decades later.
That was in 2012 and, given the wettest winter in living memory that has spawned a plague of 'course closed' signs at golf clubs up and down the land, Coffin's decision to open Silverleigh Golf Centre four months ago is also a case of perfect timing. 
Not least because, situated in a business centre comprising former farm buildings adjacent to the road that links Tiverton and Exeter and is in view of the swollen River Exe, the venture is not subject to the vagaries of the weather.
Coffin, however, admits going it alone in such a remote location was a huge leap of faith.
"I'm good at those sort of things," he says. "I've had a few goes in the past and they've not been overly successful. Hopefully I've learned a lot and kept my feet on the ground a little bit more this time.
"I found this place just up the road from where I live and ummed and ahhed for a while.
"Eventually I asked to be showed round and one unit had the height and space I needed. What's more the rent was affordable."
Cost also played a huge part in Coffin equipping the business and making the unit fit for purpose. As a result a lot of self-help was involved.
"It wasn't expensive as it might have been," he explains. "I didn't have the budget or finance to go to a company and say this is what I need so please build it.
"I have done most things myself, including building the stage, and saved a few thousand quid.
"I had to borrow the money to finance the hardware such as the projector, a big gaming computer and the launch monitor.
"As for the launch monitor, I went for a SkyTrak. My budget meant it was case of that or nothing. Not that I've got any regrets - I've been really pleased with it.
"I've seen comparison tests on YouTube between SkyTrak and much more expensive kit and the results are arguably equally as accurate.
"They were within a few feet of each other in every test. I know what my distances should be when I hit a ball and it backs it every time."
Having embarked on his latest leap of faith, Coffin had to make it work by attracting custom. To that end, he employed two tactics. One, in his experience, is time-honoured. Not so, the second – social media.
"My existing clients have followed me," he reports. "Loyal clients will follow you anywhere within reason. Some were a bit reticent about being indoors but they've all gone away happy.
"The feedback the customer gets is much more than they would on a range unless there was a launch monitor there.
"Moreover private coaching here is private. There are no distractions from other range users.
"In addition, I've used Facebook to generate business. I've had an account for years and used to go on there every so often to see what old friends were up to but never posted much.
"But I knew I needed it for my business – I sought some marketing help from people in the know and I've got a business page on Facebook which I promote.
"And so far so good – it's working for me. I set up the Facebook business page a couple of months ago, posted a couple of things and then boosted them.
"So I suddenly hit five to six thousand people in the local area – obviously they're not all going to be golfers but I got some good feedback. The boost only costs a few quid and I've got some business from it."
That business includes young people who use the facility for social occasions and, rather than have lessons, play courses such as Gleneagles, The Belfry and Pinehurst on the simulator.
"More people play golf these days than ever but they are occasional players and not traditional golf club members," Coffin adds. "I've had a few of those come in and it's been brilliant.
"I'm going to try and get an alcohol licence and boost the social side of the business. That, club sales and repairs are spins offs.
"The most profitable thing to do is teaching and I plan to do that on the course as well as here in the summer. I see this primarily as being a winter business and once people are used to it I'm confident they will keep coming here."