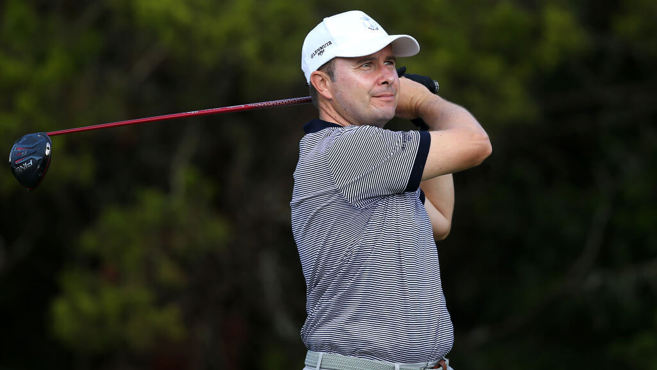 Matthew Cort played down his exceptional performance on the opening day of the 2019 PGA Cup and instead heaped praise on his two young playing partners.
An action-packed day in sweltering conditions at Barton Creek Resort in Austin, Texas, saw the United States develop a 5-3 overnight lead in the 29th PGA Cup matches.
Cort was one of the standout performers for the visiting team. In the muggy heat, the Beedles Lake Golf Club professional picked up six birdies and an eagle on his way to winning his fourball match-up alongside debutant Jordan Godwin.
The 45-year-old teamed up with Alex Wrigley in the afternoon and the Great Britain & Ireland duo sealed another important point for Cameron Clark's team.
"We had a great match this morning with some birdies and we were steady this afternoon," said Cort. "There wasn't as many birdies in the afternoon but foursomes is that kind of format; pars are good sometimes.
"I got on a roll with Jordan (Godwin), I got a few up early which always helps then just continued going forward. He's a great player. I made some birdies and so did he so it was a great combination. He's a nice, easy going kind of guy as well. He didn't get overly nervous because it was his debut, he played really well.
"I think foursomes is a nice, chilled out match. Alex (Wrigley) and I seem to get on well and we've got a similar game so it really panned out well."
Scottish duo Alastair Forsyth and Paul O'Hara showed no signs of nerves on their PGA Cup debut as they twice came from behind to tie with Sean McCarty and Rich Berberian Jnr in the first fourball outing of the day.  
Robert Coles, Great Britain & Ireland's star player at Foxhills in 2017, opened with a narrow defeat alongside fellow former European Tour player Craig Lee. Richard Wallis and David Dixon also lost their fourball match as Clark's side struggled to turn their efforts into points.
Trailing 2½ - 1½ heading into the afternoon foursomes, Cort and Wrigley got Great Britain & Ireland back on level terms and the signs were looking good for the visiting team.
However, the United States, attempting to win back the Llandudno International Trophy for tjhe first time since 2013, regained the initiative as Jason Levermore and Dixon were defeated 3&2. Coles and Forsyth looked on target for their first win of the day as they led by three shots with as many holes to play, but Ben Kern and Ben Cool found a way back into the match to claim a tie.
Despite their best efforts, Lee and O'Hara also fell to a narrow defeat on the final hole as large crowds gathered to witness a dramatic finale on the opening day of the 29th PGA Cup matches.
"The golf out there today was incredible," said Clark. "There were lots and lots of birdies but my team will be disappointed. The team have been saying sorry to me. They don't need to say sorry to me, the boys are trying their hardest. I just need to make sure the boys are in the right frame of mind tomorrow morning." 
As for Cort's performance, Clark added: "Matt's from the same region as me. He's such a solid player. He played great in the last PGA Cup and I knew he'd do a job here."
Click here to view more photos from day one of the 2019 PGA Cup.