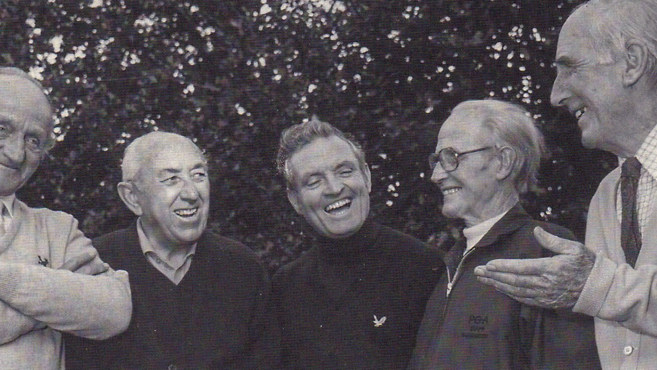 Tributes have been paid to Don Patterson, the last surviving link with the founders of The PGA's ground-breaking training scheme for its assistant professionals who has died at the age of 87.
Don, an Ulsterman and PGA Honorary Member who retired in 1997, was a member of the original training team that also comprised Eddie Whitcombe, Reg Cox, Eddie Musty, and Sid Collins.
Founded in 1961 and originally an eight-day course held at Llandudno Golf Club during the winter, their initiative has subsequently attained degree status and now involves three years of study in conjunction with the University of Birmingham.
"The PGA training schemes are now viewed as the best in the world and that all started with the pioneering work of Don and his colleagues," said Alan Walker, a PGA Master Professional, golf course architect and the Association's captain from 1999 until 2001.
"Don was the last remaining member of the pioneering group that saw we had to bring training forward.
"They weren't worried about keeping their own jobs but more concerned with young people coming in and their futures. As a result thousands of pros have and still do benefit from their work."
Each of those pioneers had a specialty and Don's was coaching. But that was not his sole area of expertise.
The lay-outs at County Armagh, Loughall Country Park, Omagh and Moyola Park Golf Clubs all bear testimony to his skills as a golf course architect.
Don, the head professional at Warrenpoint Golf Club from 1959 until 1984, was also PGA in Ireland captain.
Despite those skills, his forte was coaching – an attribute recognised by his peers in Ireland who voted him golf teacher of the 20th century.
"I love coaching," he once confirmed.
"It's good to see the fruits of your work, especially among the younger set."
One such youngster to benefit from Don's tuition was Peter Hanna, the current PGA Captain.
"I first came across Don when I was at school," recalled Hanna, head PGA Professional at Lurgan Golf Club, Northern Ireland.
"He was the pro at Warrenpoint and came up to teach in Craigavon at a driving range. He was regarded as one of the best teachers in the country and our school team was coached by him. 
"I met up with him again after I turned pro and went to work as an assistant. In between trying to make a few quid playing on Tour, I did some coaching at a driving range where Don was teaching and learned a lot from him.
"He was very much into physical fitness, which was largely unheard of at the time. He also produced a lot of great golfers at Warrenpoint, not least Ronan Rafferty, and he was a national coach with the GUI (Golf Union of Ireland) for many years.
"Many pros in Ireland from my era have a great deal to thank him for – we all learned from him. The PGA is also indebted to him for his work in the early days of the training programme and going over to The Belfry as a swing tutor.
"Above all, he was a lovely man as well and never said a bad word about anybody."
In terms of Tour successes, Rafferty was the star student but Don also coached a who's who of Irish golfers in the early 80s, a band that included Des Smyth, Stephen Hamill, Raymond Burns and Joey Purcell.
And it was not just Irish golfers who were indebted to Don's coaching: Gerry Anderson, a Canadian PGA pro, won the Canon Masters at Crans-sur-Sierre in Switzerland.
Establishing who Don was coaching, however, was almost tantamount to uncovering a state secret.
"He would never ever boast about who he was teaching," recalled David Johnson, PGA chairman of training for 13 years and a tutor and consultant for 30.
"You would have to ask him who he was teaching and, unlike a lot of others, prise the information from him. He was probably one of the most modest men you could ever meet.
"Moreover, he was hard-working guy and put a lot into the Association's training programme as a swing tutor.
"When he first started he was spotted with a tape recorder and, when asked what he was doing, he said there was so much information he wanted to capture it for his pupils.
"His heart and soul were in the job and he would do anything he could for golf pros and the Association."
Don, who passed away after a long illness, was predeceased by his wife, Rosemary, who died in January. The couple did not have any children and Don is survived by his brother Bryan, a retired PGA Professional who lives in Cornwall.
The PGA extends heartfelt condolences to him, Don's other family members and friends.