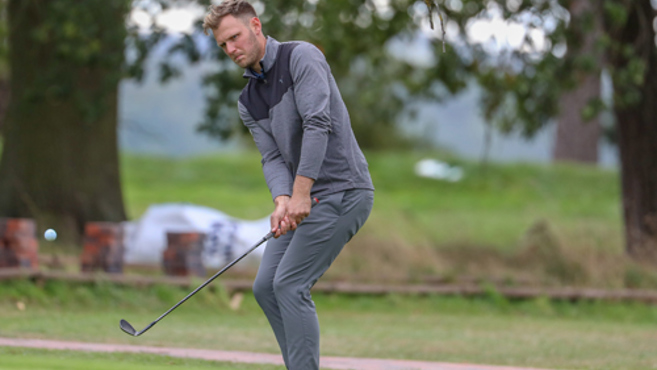 Sam Forgan maintained Felixstowe Ferry Golf Club's winning start to the year as he booked his return to the Coca-Cola PGA Assistants' Championship final in the PGA East region qualifying event.
Forgan (above) finished tied-third in last year's final and took the first step towards improving on that by sharing top spot with Aldenham Golf & Country Club's Andrew Cameron in the qualifier at Nazeing Golf Club.
Both carded three-under-par rounds of 69 at the Essex venue and they will join 14 other qualifiers in the £27,975 Coca-Cola PGA Assistants' Championship final at Farleigh Golf Club, Surrey, between July 27-29.
Third-year PGA Trainee Forgan's display rounded off an impressive few days for Felixstowe Ferry.
Last month, the club's professional, Andrew Robinson, won the PGA Professional Championship East qualifier at Moor Park Golf Club by five shots.
And Forgan's success at Nazeing came just three days after he won the R&A PGA Trainees Development Series event at Braintree Golf Club.
"It's been a good few weeks with the wins for Felixstowe Ferry," he said. "We've all been busy over the past few months and playing had taken a bit of a back seat.
"So to get out and play again for us was nice, winning is also a bonus of course."
Forgan admitted he felt his final score at Nazeing could have been better but he was happy to secure his place in the final.
"I did the hard work on the front nine, that's when the worst of the weather was, maybe I would've liked to have taken advantage of the par fives on the back nine a little more," he added.
"That's what stopped it from being a really good score. But I needed a solid score and I suppose I played a little conservatively.
"I played the PGA EuroPro Tour for about five years. For me, I've always enjoyed coaching and the PGA degree would give me more of a platform after joining Felixstowe Ferry in January 2020, and needing to get to know people at a new club."
CLICK HERE to view the full leaderboard from the Coca Cola PGA Assistants' Championship East qualifier