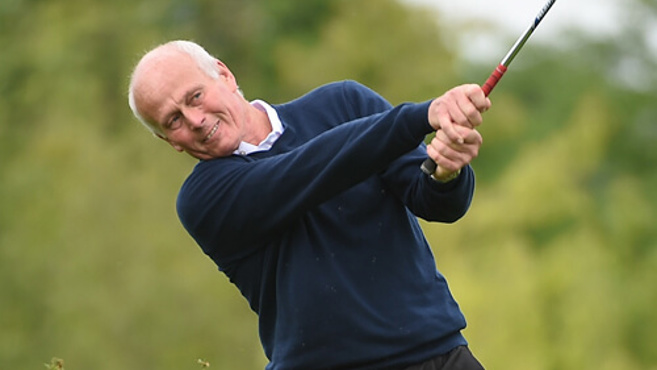 The PGA regrets to announce the sudden and untimely death of Andrew Hall, a Member for more than four decades who realised his dream of owning a golf club but never lost sight of enjoying life along the way.
Andrew, a former PGA South chairman, was 62 when he passed away, just four years after selling Sand Martins Golf Club in Berkshire, a club that was ailing when he was appointed its head PGA Professional in 1994.
"The club was struggling at the time and he turned it round," recalled Andrew Reynolds, head PGA Professional at Royal Cinque Ports in Kent, and his namesake's closest friend.
"The owner gave him a percentage as a 'thank you' and a bit more a couple of years later. Then, when the owner was unwell, Hally bought it from him and really worked hard to make it a success.
"What's terribly sad is that having had debt for all those years – which you do if you buy a golf course – he sold it well and hasn't lived long enough to enjoy the fruits of his labours."
The two first met in late 1975 when Andrew Hall arrived at The Berkshire to complete his PGA training after spending two years at Rotherham Golf Club. It was there the pair learned the value of hard work and became inseparable friends.
"We worked for a very special pro called Keith McDonald," Reynolds continued.
"There were two things you learned if you worked for Keith. One was how to fold sweaters perfectly, which we were very good at. The other was how to work 75 hours a week. Which we were also very good at.
"We went on to become lifelong friends, lived life to the full and had fun along the way.
"When we were kids and earning 30 quid a week we always said we could say we've made it when we had a beer in New York. That was a big thing 40-odd years ago.
"Eventually we went to a Ryder Cup, the one at Oakhill in 1995. We flew to Newark and needed to leave the airport to have that beer in New York. We were enjoying it so much we missed the connecting flight by three hours and had to continue our journey the next day!
"My wife called us the Morecambe and Wise of the golf industry. We both worked hard and did well in our careers but also saw the lighter side – the fun part."
The pair played regularly in fourball and foursome events and for a while had Tour cards; career-wise, however, they went their separate ways after three-and-a-half years at The Berkshire.
Reynolds headed for Royal Cinque Ports and his pal to Sand Martins via Blacknest and Blackmoor Golf Clubs.
And it was at Sand Martins where Andrew's aptitude to work long hours and attention to detail paid off.
"He had this great capacity for hard work and an eye for detail," Reynolds added. "Sand Martins wasn't a great lay-out or design but there wasn't a blade of grass out of place or a fork in the wrong place in the dining room.
"That's how he succeeded – it's a great lesson for others: if you have an eye for detail, pay attention to things, work hard, and have a genuine desire to improve things you can do anything."
In addition to reversing Sand Martins' fortunes, Andrew made time to serve on regional PGA committees, succeed Reynolds as PGA South chairman, and earn a reputation as an accomplished coach. So much so that he was a teaching panellist with both Golf World and Golf International magazines.
He was also held in high esteem at Sand Martins and by the club's new owner.
"His hard work, passion, dedication and love over the years made the club what it is today," reads a citation on the club's website
"Andrew was the consummate professional, player, coach and businessman and his legacy will long live on at Sand Martins Golf Club."
Moreover, Andrew's successor as owner, who also has the Lambourne Club in in his portfolio, appointed Andrew as a consultant to keep an eye on both operations.
"I nagged him regularly that he had a big chunk and it was time to stop," added Reynolds. "But I don't think he could.
"He also hated discord, didn't like arguments and wanted everything to be smooth – he was a kind man as well. He's left a great legacy and lasting memory for those who knew him."
Andrew is survived by Ann, his wife, and daughters from a previous marriage, Katy and Sophie, stepson Robin, stepdaughter Lucy, and four grandchildren. The PGA expresses heartfelt condolences to them, his other family members and legion of friends.
*Andrew's funeral will be held on August 4 but numbers will be limited because of social distancing regulations. Andrew Reynolds will attend so there will be a PGA presence.