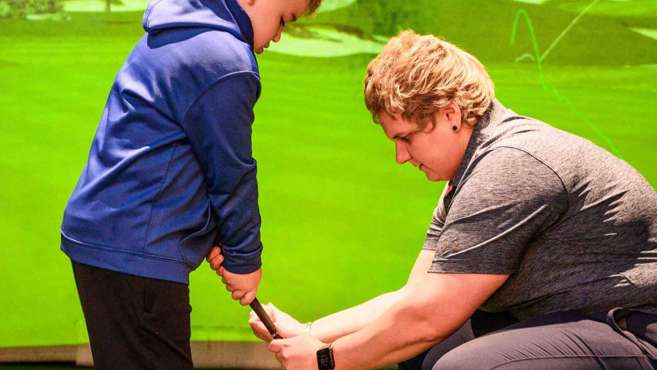 Natasha Gobey has had such an impact in the 18 months she has been back as a club professional that she has now claimed the Wales Golf PGA Pro of the Year Award.

The former Wales squad amateur went to America on a golf scholarship before completing her PGA training and turning professional while working at The James Andrews School of Golf in East Sussex.
She enjoyed a short six-month spell at the Tony Valentine Golf Centre before returning home to Rhondda and she is now based at Bryn Meadows Golf Hotel and Spa.

The 28-year-old has demonstrated outstanding success growing the game of golf and increasing participation at any club she has been a part of.
"It feels a bit surreal to get this award, I am really chuffed," said Gobey. "It is nice to get recognition for something you are passionate about."
Gobey's commitment to school outreach work has seen Bryn Meadows successfully awarded two Golf Roots grants to continue engaging with over 2,500 children from 21 primary schools in the Caerphilly area.

Her work has brought substantial increases to the numbers in weekly coaching at Bryn Meadows, starting with ladies and juniors through the Wales Golf New2Golf scheme but now also including a new men's group.
Gobey has had a very successful season with the junior membership with Bryn Meadows winning the Golf Sixes League, she also works with Valleys Daffodils and Cambrian Village Trust on a monthly basis to make golf inclusive for all.

She has introduced golf to over 5,000 people in the Caerphilly area, covering Years 3 to 6 in primary school and adults, she has also been nominated for Sports Coach of the Year by Sport Caerphilly.

"It makes it easy when the people around you share the same vision as you, my colleague Katy Edwards helps a lot and the management at Bryn Meadows are very supportive and allows me the support system and time to continue the drive in the local community.

"I just love golf. The club's ladies and junior golfer numbers seemed to be going down so I was keen to pick that up and to be the driving force.

"One of the key focuses was to break down the barriers that golf faces such as it being seen as expensive and unwelcoming so getting involved in the local community and inviting them up to Bryn Meadows was my biggest focus."
Natasha was due to collect the award at the Wales Golf Annual Awards Lunch at Celtic Manor, but the event was postponed because of the COVID-19 outbreak.
This remains a difficult period for golf facilities around the world, but typically Gobey has a positive message.
She added: "Golf will still be there when all this is over and I will be ready to pick up from where we left off and continue to encourage as many people into golf and nurture and drive the golfers we have – but for now everyone needs stay safe. We have to put people's health and safety before business."