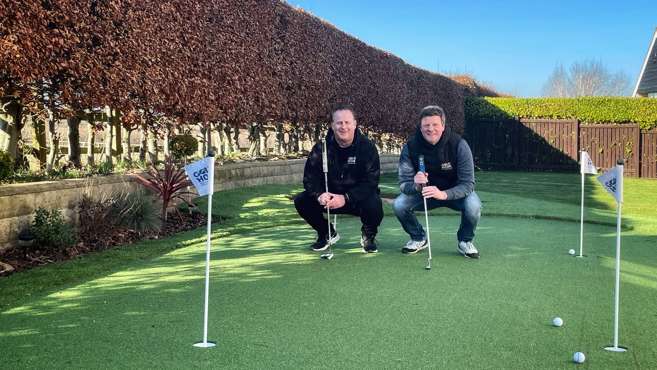 The COVID-19 pandemic affected the golf industry in many different ways, but one sideline is that it has inspired many PGA Professionals to consider the opportunity of starting an alternative business.
We have seen PGA Professionals write their own books and build their own training aids. Now, Paul Hebdon, alongside business partner Angus Taylor, has launched bespoke synthetic putting green company, Golf4Home.
Speaking about how the business first came about, Hebdon and Taylor felt that with people spending more time at home post-pandemic, there was space in the market for another company adding golf greens to their homes.
"The artificial grass business has gone through the roof over the last few years and we can see this being a growing business too," said Hebdon.
"People are doing more things at home and having a putting green in your garden is a convenient alternative from having to go to your golf club all the time. You can use it year-round in all weather and it can be great fun for the whole family."
Having a PGA qualification is something that Hebdon believes makes their business stand out from the competition.
They also have qualified golf course architect and PGA Master Professional, Alan Walker, consulting for additional expertise.
Hebdon added: "The PGA title is definitely a trusted qualification that inspires confidence with both golf businesses and general customers.
"As PGA Professionals we also have a greater understanding of what golf clubs and golfers are looking for – we're experts in our field."
Business for Golf4Home is growing quickly. Hebdon explained they started offering free samples of winter mats to golf professionals and an option of getting them on a sale-or-return basis. These completely sold out. They also began getting bespoke requests from golf clubs and driving ranges.
However, Hebdon has found new client leads from an unlikely source - TikTok. The social media platform has taken off in the last few years and now has more than one billion active, monthly users. The popular platform can be a highly useful free resource for business marketing, as Hebdon has discovered first hand.
He continued: "We started our Golf4Home TikTok account at the beginning of the year and by February, already had almost 250,000 views and a number of enquiries. This has since rose to 1.4 million views as of June. We couldn't get anywhere close to those figures on any other social media platform."
Video views are translating into clients too. With more people looking at what the business has to offer, Golf4Home is generating more interest.
There has been numerous new enquiries via their social platforms, including from celebrities.
Hebdon thinks more golf businesses and PGA Professionals should be taking advantage of the marketing potential of TikTok.
"TikTok is not that new anymore, but I don't think many professionals are using it. It probably still has an image of being for children, but that is definitely not the case. It is easy to create good content with TikTok and excellent advertising."
FIVE TOP TIPS FOR USING TIKTOK FOR YOUR BUSINESS:
Experiment with content
"Even some of the videos I've thought are the more boring ones, some of those have had upwards of 45,000 views - people like it! Whatever you like, you'll find something on TikTok."
Use the analytics
"The analytics on TikTok are great and can really help you find out more about your audience and plan your content strategy accordingly."
Mix sales posts with entertaining content
"If we go to a tournament, we'll film some of the golf, then we'll mix it up with a sales post, so it's not just pure sales, it's a mixture of content to keep things interesting."
Use the TikTok-specific features
"It's pretty easy to use the features - the music, the text and the special effects for example. It's fairly well explained and easy to learn. Using music that's gone viral will always be popular and I'd recommend always adding text – that's important."
Use relevant hashtags
"I always hashtag relevant things. Sometimes I might try using #PGATour or #DPWorldTour to reach a larger audience, or TikTok's own hashtags such as #TikTokGolf to try to get more views."
CLICK HERE to view Golf4Home's TikTok channels.