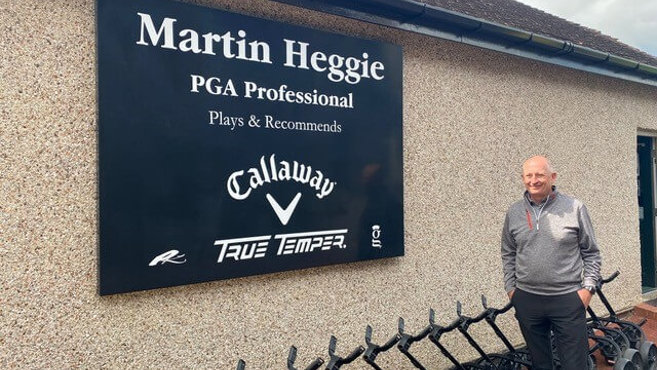 Moortown PGA Professional Martin Heggie will play nearly 500 holes to help raise much-needed funds for motor neurone disease.
Just two years after ending his playing career, Leeds Rhinos' Rob Burrow was diagnosed with motor neurone disease. Burrow is one of 5,000 adults in the UK living with the disease and, every day, an average of six people are hit with the appalling news that they have the disease.
The scrum-half played 493 games for the Yorkshire club which is why Moortown head professional Martin Heggie will play 493 holes in June. And, inspired by Kevin Sinfield's incredible effort of running seven (Burrow's shirt number) marathons in seven days, Heggie will complete the 27 rounds and seven holes in just one week.
He gets underway at Barnsley GC on Sunday June 19 and will play those last seven holes at his home club on Saturday June 25.
"The motivation came simply from just how tragic Rob's situation is and how he is with his kids and also by Kevin Sinfield and what lengths a pal will go to for another pal," explained Heggie. 
"I've been to Rhinos' matches and Challenge Cup finals but I wouldn't say I'm a huge rugby league fan. One of our members is the President and there's always a lot of talk about the Rhinos at the club but it's more that it's all just very humbling and when you see moments like when Kevin ran into Headingley's stadium to be met by Rob, it is so emotional.
"I'm doing this by playing every course in the Leeds & District Union of Golf Clubs, which is 28 clubs, and hopefully by getting all the clubs involved it will spread the net a bit wider. Moortown will give a fourball to all 28 clubs with a minimum return of £200 so I think every club will do that and that would get us halfway there to my target of £10,000.
"I stay pretty fit, I do hot yoga three times a week and walk at least six miles every day with the dog. I did a flexibility course earlier this year which was good and I learnt a lot about breathing.
"Incredibly I haven't played Headingley which is two miles from where I've worked for 19 years so I'm really looking forward, in amongst everything, to playing some new courses."
One of the current fund-raising initiatives is to build a state-of-the-art Rob Burrow Centre for MND in Leeds which will help to give people with the disease and their families the best possible care and support.
CLICK HERE to find out more or donate.