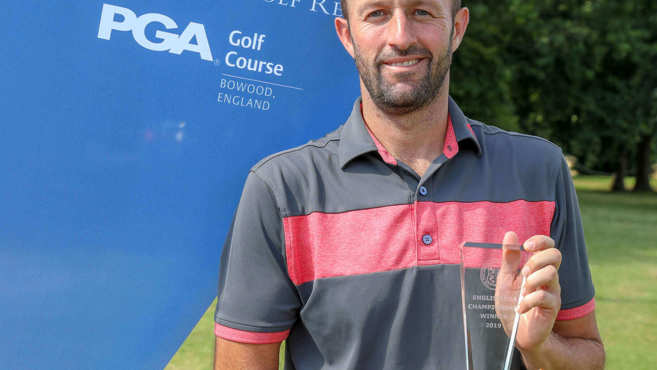 Paul Hendriksen kept a cool head in sweltering conditions to win the English PGA Championship at Bowood Hotel, Spa and Golf Resort.
Having played red hot golf to match the sizzling temperatures at the Wiltshire venue in the second round, the PGA Professional from Ivybridge Golf Club in Devon opted for a safety-first approach to claim victory.
He was 10-under-par and three-shots clear of the field coming up the par-four 18th but a rare misjudgement turned what should have been a triumphant and trouble-free stroll to victory into an exercise in course management.
Reflecting on what was his solitary moment of real anxiety in the three rounds that saw him post a nine-under-par score of 207, Hendriksen explained: "I tried to show that no lead is big enough.
"I had a three-shot lead coming up the last and I knew I could make double bogey and still get the job done.
"I hit a good tee shot then I was left with in-between clubs for my second. I went for the bigger club and it went through the wind and long into a bunker. That left me with a difficult shot and I then used my course management skills.
"I played out at right angles to the pin to the middle of the green and two-putted from 40-foot.
"I knew I could three-putt from there to win – it wasn't too bad but it could have gone horribly wrong if I hadn't had three shots to play with."
Hendriksen had established that three shot advantage with successive birdies at the 15th and 16th holes – a brace that effectively snuffed out the challenge of Spalding Golf Club's Adam Keogh (above) who matched the seven-under-par best of tournament rounds posted by Hendriksen and Andy Willey on days two and three respectively.
In addition to the £5,000 winner's cheque and trophy, the victory has earned Hendriksen the unique distinction of being the only person to win the English PGA Championship and the Association's flagship event, the Titleist and FootJoy PGA Professional Championship.
Furthermore, it has helped soften the blow of him turning 40 on the first day of the tournament.
"I had a bit of a traumatic start to the week," he joked. "I was 40 on Tuesday and that was pretty hard to get over but this is going to help. What's more, if I'm going to play like this in my forties I'll embrace it."
Inevitably, a double celebration is planned for the weekend. As for his choice of birthday present, Bowood Hotel, Spa and Golf Resort would be very acceptable. And not because of its real estate value.
Hendriksen's last three visits to the course have seen him finish, tied first, tied second and now first.
"I've always done well here," he said. "We're lucky to have this venue in our region. We get to play a pro-am here every year and we used to have an Order of Merit event here as well.
"I love the golf course and the whole set-up. It's a real five-star resort, the course suits my game and I love coming back here. It's great."
Leading scores: Paul Hendriksen (Ivybridge Golf Club) 207 (-9); Adam Keogh (Spalding Golf Club) 209 (-7); James Freeman (Retford Golf Club), Jamie Howarth (Davenport Golf Club), Daniel Scourfield (Wiltshire Golf Club) 210 (-6); Andy Willey (Oakmere Park Golf Club), Peter Tarver-Jones (West Hove Golf Club), Ian Campbell (Wels Golf Club) 211 (-5).