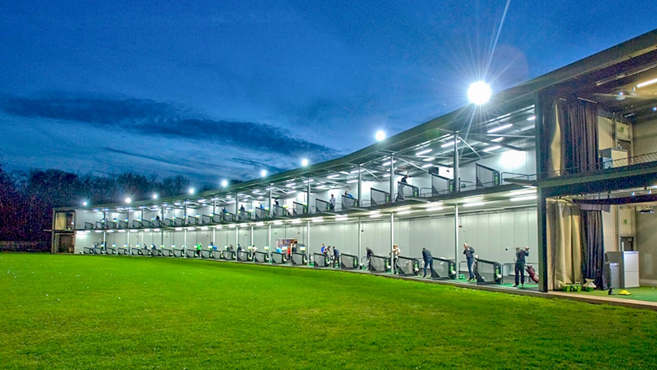 Silvermere Golf, the home of one of the country's foremost driving ranges, is complying with the government's coronavirus-related guidelines as to the number of customers it can accommodate by operating an online booking system.
The Surrey-based complex boasts a two-tier range comprising 52 bays, 48 of which feature Toptracer technology.
However, the need for social distancing to try and contain the virus and protect both customers and staff means the number in use has to be restricted.
As a result access to the range is by appointment only and bookings must be made online.
For obvious reasons, much thought, debate and planning went into the reopening of the driving range on June 1.
"Having spent weeks delivering this new process, we believe that we can now offer golfers a safe space to practise," said Terry Sims, a PGA pro and Silvermere managing director.
"It's working really well – the customers feel really safe. We're running at half capacity – 24 at a time. Everyone is staggered every 15 minutes, we're only bringing in six in and six out at a time and spectators are not permitted.
"Some of the older customers aren't happy with having to book online but we need to keep as few people from going into the shop and entering the facility as possible.
"We have an obligation to the staff as well as customers to negate as much contact between people as we can. That's the job we should be and are doing."
Despite approval from most customers, a downside of the initiative is the additional £200,000 Sims estimates will be the extra staff costs the service incurs.
"We have a guy with an I-pad who stands at the front and checks the customer in," Sims explained. "He then sends him or her down to the end where there's another guy on the bottom floor and another on the top floor.
"It's a very expensive process which has forced us to raise prices."
Initially, the charge for a 55-minute session and basket of 120 balls was £16. However, an adverse reaction on social media forced a rethink and the price is now £14.
"We probably put prices up too much at first," Sims admitted. "We got a lot of social media heat so we listened to people and brought them down.
"The bottom line is we've had good feedback but it comes at a cost.
"The Catch-22 is that we can't have what we built for millions all those years ago and not use it."