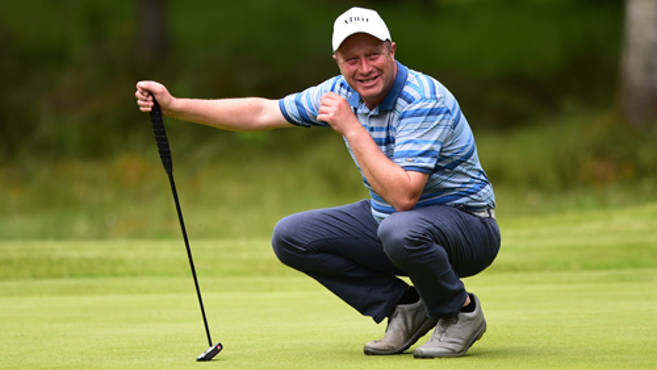 Greig Hutcheon delivered his second seven under par round in the PGA Professional Championship at Blairgowrie to put himself on course to salve a sore in his success-laden career.
The 48-year-old Scot has been the winner of the Scottish PGA Championship on three occasions, twice won the Northern Open and PGA Play-Offs, and topped the Tartan Tour seven times.
In addition, he has represented Great Britain and Ireland in two PGA Cup matches, holing the winning putt in 2017.
To date, however, success in the PGA Professional Championship, the Association's flagship event, has eluded him.
All of which could be resolved in the fourth and final negotiation of the Peter Alliss and Dave Thomas-designed Landsdowne course.
Hutcheon, who represents Torphins Golf Club, goes into it on 16 under par for the tournament, two shots clear of his closest challenger and compatriot, Paul O'Hara.
Two shots further back and best placed to prevent Hutcheon and O'Hara turning the final round into a domestic skirmish for the £10,000 winner's cheque lies Ireland's David Higgins.
Hutcheon had begun the third round two shots adrift of O'Hara but eight birdies minus a solitary bogey coupled with his rival posting his worst return of the week – three under par – resulted in a four-shot swing.
An even bigger reversal of fortunes, however, involved Hutcheon and Toby Hunt, the leader at the tournament's halfway stage.
Hutcheon trailed him by four shots at the start of play but, with Hunt carding a three over par return, now leads him by six.
"I felt sorry for Toby today," Hutcheon said. "He didn't do much wrong and didn't get the breaks. But that could be me tomorrow – you never know what you're going to get."
Reflecting on his own performance and prospects of victory, he added: "It was a nice day today – the same as my first round.
"I kept the ball in play off the tee, which is one of the keys, and holed some putts.
"It's a tricky golf course, it's narrow, the fairways are firm. Yesterday I missed a couple of tee shots, the putter didn't work quite as well and I only managed 70 so these are the margins round this golf course.
"You have to try and keep the ball in play off the tee and hope the putter works.
"I've never won this one so there's a little bit of added pressure tomorrow to try and put that right. I'll take it one shot at a time. It's an old adage but it tends to work."
Meanwhile O'Hara is well set to win the PGA Play-Offs which is being staged simultaneously.
He goes into the final round three and four shots clear of English pair Matt Cort and Simon Lilly.
CLICK HERE for a full list of scores to the PGA Professional Championship
CLICK HERE for a full list of scores for the PGA Play-Offs