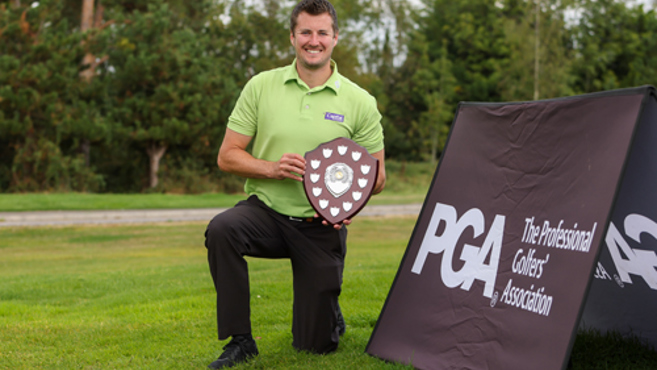 The rollercoaster that overlooks Paultons Golf Centre in Hampshire provided the perfect analogy as the latest chapter in Toby Hunt's season played out in its shadow.
Having missed out on winning the PGA Professional Championship after breaking the course record at Blairgowrie and losing a marathon nine-hole play-off that settled the Asbri Welsh PGA Championship, Hunt ended the PGA South West's final Order of Merit event of the year on a high.
Although a well-patronised attraction at nearby Paultons Park, the rollercoaster is possibly not as popular as its most famous resident, however.
The Park is also the home of Peppa Pig World and it's fair to say Hunt brought home the bacon on not one but two counts thanks to his exploits on the neighbouring golf course.
In addition to finishing as the leading player from PGA South West in the tournament run in conjunction with PGA South, Hunt also won his region's Order of Merit. By the proverbial whisker, that is.
The 270 points he earned for his victory left him a mere three and a third clear of High Post Golf Club's Corey Sheppard and 30.71 ahead of Alister Balcombe from Weston Super Mare Golf Club.
As a result, all three have qualified for the PGA Play-Offs which will be run in tandem with next year's PGA Professional Championship.
That, for the pro from St Mellons Golf Club, Cardiff, was a case of mission accomplished. Finishing at the top of the Order of Merit, however, was a tale of the unexpected.
"I didn't think I had a chance of winning it," Hunt admitted. "I came to the tournament aiming to finish in the top three. And after the front nine I had in the first round I didn't think I'd get anywhere near it.
"I turned it on over the back nine which gave me a chance in today's round. It's great to get the win – it was totally unexpected. It's also the first time I've won the Order of Merit so that's really pleasing."
The outcome of the PGA South Open Championship was also a close-run thing, Hunt finishing tied-second with Chris Rodgers on 11-under a shot behind Cuckfield Golf Centre's Ryan Fitzgerald.
Reflecting on his season, Hunt added: "It's been a turbulent year. There were some difficulties in the first half of the season.
"There was a lot going on in the background and I went to Blairgowrie with absolutely no expectations, but I shot nine under in the first round and since then haven't really had a bad round.
"Then there was the marathon play-off. Again, I didn't think I had a chance of winning after the first round and it didn't quite work out in the play-off.
"Winning here sort of makes up for that. It's capped off a nice back end of the season."
CLICK HERE for a full list of scores
CLICK HERE for the complete Order of Merit