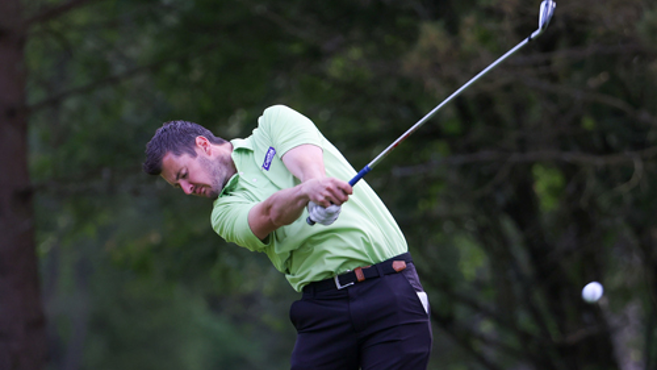 If football is a funny old game then another adjective beginning with f is an apposite description of golf. Frustrating. For confirmation, just ask Toby Hunt.
Although he ended the second round of the PGA Professional Championship where he began it, in pole position and his two-shot lead intact, he had good cause to reflect on a catalogue of what might-have-beens.
A putt at the par-four 15th on the Landsdowne course at Blairgowrie Golf Club that flirted with the hole but refused to drop accounted for the solitary bogey in his four under par round of 68.
Moreover, it heralded a succession of travails that befell the Welshman in the closing stages of his round as red-hot approach play continued to be sabotaged by an ice cold putter.
An almost exemplary approach at the 16th was not rewarded with a birdie; ditto a textbook escape from a greenside bunker at 17; and a marginally miscued shot to the 18th meant the pro from St Mellons Golf Club, Cardiff, had to sign off with a par.
All of which was in sharp contrast to yet another storming start from the 28-year-old whose opening nine under par round of 63 set a new record for the Peter Alliss and Dave Thomas designed course.
Indeed, it was action replay time as, just in round one, he eagled the par-five first and birdied the next.
Two more birdies followed at seven and 12 before he fell foul of the 15th for the second round in succession.
Despite the downbeat denouement, Hunt, who is on 13-under for the tournament, is handily placed at the halfway stage of the chase for the £10,000 first prize.
He will be mindful, however, of the presence of some pedigree pursuers in his slipstream, not least Paul O'Hara (above).
The in-form Scot, who won the tournament in Ireland at Luttrellstown Castle in 2018, matched Hunt's four under par return and is two shots clear of his compatriot Greig Hutcheon on 11-under.
In addition, O'Hara has an even healthier advantage in the PGA Play-Offs which are being staged simultaneously: he leads England's Jordan Godwin by three shots and is five clear of Matt Cort.
Meanwhile, former European Tour player Phil Archer posted the best round of the day, a bogey-free 66 for a two-round total of six-under and a share of 10th place with Cort.
CLICK HERE for a full list of scores to the PGA Professional Championship
CLICK HERE for a full list of scores for the PGA Play-Offs