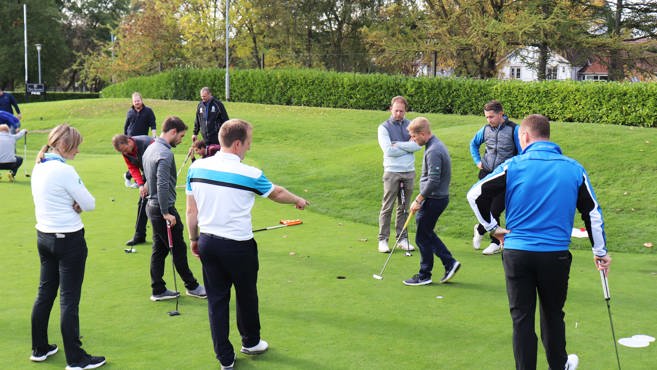 World-renowned biomechanics expert and putting coach Dr Paul Hurrion has been confirmed to deliver his incredibly popular 'Putting Biomechanics' seminar on the Coaching Masterclass programme at this year's PGA International Conference in Phuket, Thailand.
Hurrion has gained international recognition in many sports including athletics, cricket and golf for his work in specialising in biomechanical, sporting and equipment analysis.
Using a range of cameras, multi-screen computers, specialist 2D and 3D Software, and pressure platforms, along with his own knowledge, Hurrion can demonstrate things the human eye misses.  
Although best known for his work with Padraig Harrington, helping the Irishman on his way to winning three Majors, Hurrion continues to coach several European, PGA, Asian and Chinese Tour players.
The Masterclass will run as an extra seminar alongside the PGA International Conference at the world-renowned Laguna Phuket resort from November 10-13.
The interactive seminar, which has proved incredibly popular both in the UK and around the world, will see Hurrion use detailed biomechanical analysis to demonstrate the technical elements of the putting stroke. Delegates will learn to improve their putting technique while improving their knowledge of the process of putting for their own benefit and for coaching others.
Hurrion said: "I always look forward to delivering coach education sessions for The PGA. They are always very interactive and provide me with thoughtful questions, challenging current research methods and theories. The day is a good mix of practical putting biomechanics and theory allowing the delegates to experience first-hand the latest technology and putting technique." 
Commenting on the news, Matthew Davies, Regional Manager (Overseas), added: "We are delighted to have Paul join us in Phuket for what will be a fabulous addition to the 2019 PGA International Conference.
"Paul's knowledge and experience speaks for itself and is testament to the players and organisations who continue to engage his services. We are expecting the seminar to sell out quickly so would therefore recommend delegates to book on ASAP.'
The PGA International Conference brings together PGA Members and golf industry delegates from all over the world, with more than 45 people from 16 countries attending last year's event.
In addition to the education element and the chance to learn from golf industry experts, the conference affords delegates superb networking opportunities.
To book onto the Coaching Masterclass, please contact PGA Member Education team on +44 (0)1675 470 333 or email cpd@pga.org.uk
For more information about the 2019 PGA International Conference, including package prices, visit pgaconference.com