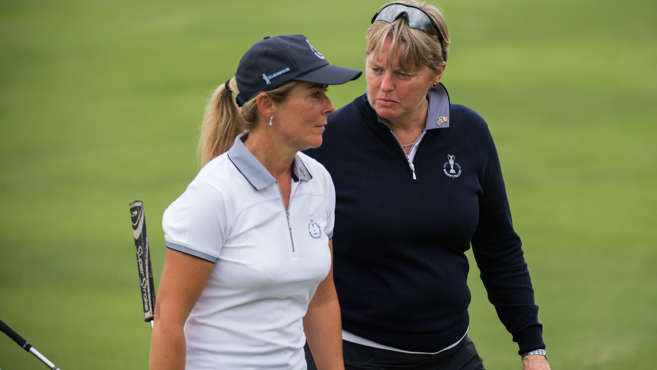 All throughout the first Women's PGA Cup, Captain Tracy Loveys will be providing a daily update from inside the Great Britain & Ireland camp at Barton Creek Resort in Austin Texas.
Today the inaugural Women's PGA Cup got underway with five nations taking part, each group had a member of each nation in it, making it a 5 ball. A first for any tournament I would guess?
With the format being strokeplay, it was never going to be a quick round of golf but, at least it was the same for everybody.
I was asked to choose my 'batting order' for the day and I decided to go with Women's PGA Professional Championship Order Of Merit which meant the order was: Heather MacRae, Alison Gray, Hazel Kavanagh, Suzanne Dickens and Maria Tulley.
The projected thunder storms didn't materialise, thankfully, and everybody got round in the dry.
I know that some of my team are a little disappointed with their score today but, I can't stress enough how tough this track is. It gives nothing away and every par or birdie is hard earned.
Our injured soldier, Maria, played great today despite a constant ache in her right forearm. She was just so happy to be out there playing, as the previous two days had been a real struggle for her.
The forecast overnight is for heavy rain which is going to make the course a lot longer for the girls. Dry Bermuda grass is hard enough to play out of, when it's wet is going to be harder still!
There is all to play for on Friday and Saturday and the lead, or the gap in the scoring, can change in the blink of an eye. 
Go team Great Britain & Ireland!
To read a round-up of day one of the Women's PGA Cup CLICK HERE.