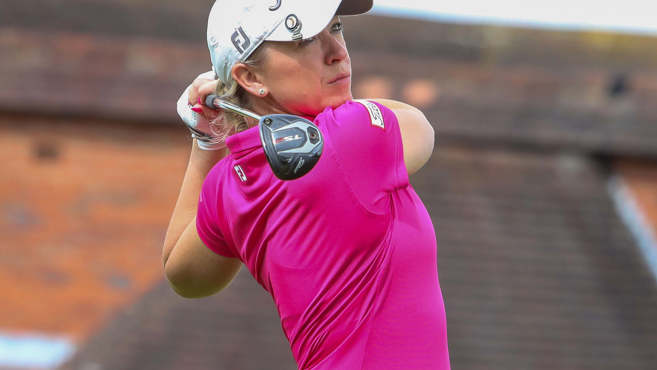 Heather MacRae will defend the WPGA Championship title at Kedleston Park boosted by her performance in the Rose Series that saw her hold her own against Solheim Cup stars Charley Hull and Georgia Hall.
In what was a rare competitive outing for the 36-year-old Scot because of illness and the lockdown, MacRae finished tied-second with five others including Hull and Hall at the JCB Golf & Country Club, Staffordshire.
"It was difficult to know what to expect after such a long break," said MacRae, who missed a large chunk of last season due to her fighting a successful battle against cervical cancer.
"So it was really nice to have a good result in such a strong field.
"But my coach, Craig Lee, kept telling me I was swinging really well and playing well, so that gave me some confidence, too."
Lee was on the bag a year ago at Trentham Golf Club where, in emotional circumstances, MacRae was crowned WPGA champion for the second time just days before she was due to undergo major surgery.
The pair played together in the Golfbreaks.com PGA Fourball Championships some 10 weeks later and then MacRae was a member of the Great Britain and Ireland team that competed in the WPGA Cup.
Lockdown, however, has curtailed her tournament participation this year and she added: "It's been a very strange couple of years with not a lot of golf being played, so I just absolutely love it when I get the chance to compete."
In terms of competition, MacRae faces some strong opposition at the Derbyshire venue when she attempts to make further inroads on Tracey Loveys' record tally of four wins.
The 22-strong field includes five other former champions, two of whom will line up alongside her – Keely Chiericato and former British and US Women's Open winner Alison Nicholas MBE.
The meeting with Chiericato could be construed as a rematch insomuch that the two were involved in a sudden death play-off to determine the destiny of the title two years ago at Trentham.
The head-to-head was brief, however, lasting just one hole at which Chiericato prevailed.
"Keely and I are friends but I don't think I've ever played with her apart from that one hole in the play-off," MacRae recalled.
"We've played in the same tournament several times but not together. She played in the Rose Series and she would have been at Tour School at the start of the year.
"It will be nice to play with her. I get on well with Alison too. She's very competitive."
The sextet of previous winners is completed by Suzanne Dickens, Catherine Panton-Lewis and Ali Gray who, like MacRae, has won it twice.