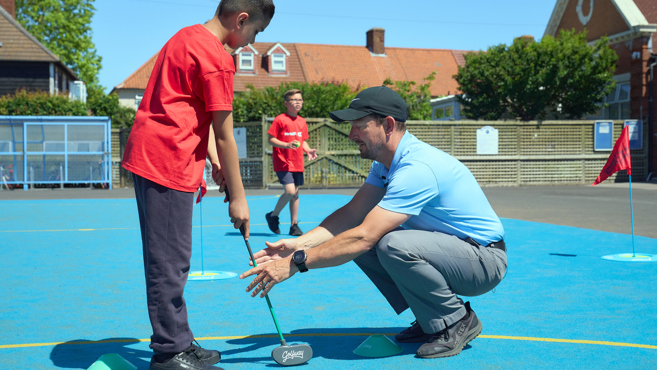 The Golf Foundation is launching a new plan that aims to excite teachers, children and local PGA Professional coaches in a significant shift to high quality coaching in primary schools.
This can grow the game, while the wider benefits of golf can help the physical and mental wellbeing of more young people at an important time nationally.
National charity the Golf Foundation has launched its new Primary School Golf Programme with support from The PGA. The new high quality focus offers primary aged children the first steps in learning the fundamentals of the game, while giving busy teachers the confidence to present a new sport which has valuable life skills benefits for youngsters of all abilities.
Crucially, the new Primary School Golf Programme will link more schools and local PGA Professionals together, providing five coaching sessions in school which progress children through to a sixth session at a SafeGolf accredited local golf club.
Over the next five years, 1,000 primary schools will be encouraged to join the project with the Golf Foundation. In England, this programme will play a crucial part in a new junior golf strategy with the charity's partners England Golf.  
The move comes at a time when leading charity the Youth Sport Trust warns of the effects Covid-19 has had on young people, with research showing children are less active than before the pandemic. 
For the school programme, a brand new easy-to-play format for kids called Golfway, developed by Masters Golf, will be used by PGA coaches, teachers and school sport organisers. While offering easy access for all abilities, the games and drills within Golfway create similar putts, chips and full shots to 'real' golf – while teachers can learn quickly how to pass on fundamentals like grip, aim, stance and posture with confidence.
Through its wider work of teaching and measuring life skills, the Golf Foundation has included practical ways of helping pupils to learn valuable mental toughness skills such as concentration and self-reflection that will benefit them away from the golf lesson. 
Golf Foundation ambassador and European Tour player Graeme Storm has been delivering golf in his local schools for some time. Graeme said: "Our new Primary School Golf Programme, using the exciting Golfway format, will give schools a fantastic opportunity to introduce children to golf and help bridge the gap between those first hits in school and their first lesson at a golf venue. We believe there is currently a real appetite for schools to explore golf as a genuine option for kids thanks to its now acknowledged physical and mental health benefits."
The Primary School Golf Programme is at the core of 'HSBC Golf Roots', the Golf Foundation's drive to give a first go at golf to two million children of all abilities and backgrounds over the next five years. This is supported by The R&A, The PGA, The Ryder Cup, Sport England, headline sponsor HSBC, and Titleist & FootJoy.
Interested PGA Professionals and primary schools can sign up by CLICKING HERE.