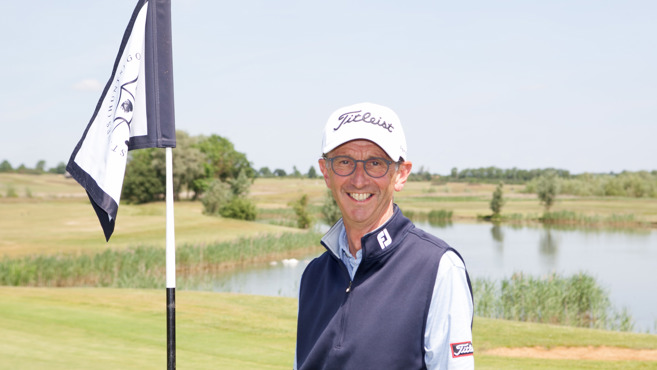 Summer is a busy time for all PGA professionals – not least for St Ives Golf Club director of coaching Paul Ashwell.
Along with giving many hours of tuition each week at the Cambridgeshire club, Paul has a number of other roles. A long-term alliance with England Golf stretching back to 1999 – he is currently national 'A' squad lead coach – is combined with county work for Norfolk. He's also Cambridge University's first-team coach. And to the fore of his mind at present is the 132nd Varsity golf match as the clash with traditional old 'enemy' Oxford is set for July 6-7 at Aldeburgh in Suffolk.
The blend of passion and expertise are key reasons why Ashwell has so many blue-chip associations. Indeed, his talent was marked with 'master professional' status by the PGA in June, 2020.
"At school, I always used to enjoy helping the PE teacher in games lessons with younger years, so I've always had that interest in supporting others," says Paul, who qualified as a PGA professional back in 1985, working in his birth county of Bedfordshire. "I like trying to help somebody – the sense of satisfaction – and I'm still the same today. I'm just as happy to coach a beginner as I am a pro."
The steady climb through golf's coaching ranks began during his 28 years at Wyboston Lakes as he moved up from regional to national work. Ashwell served as England Golf's under-16s and then under-18s coach for England, taking teams to European and World Championships. Those positions of responsibility also saw him playing a part in the development of a string of future stars such as Tommy Fleetwood, Tyrrell Hatton, Eddie Pepperell and Tom Lewis.
In some instances, the contact from those days remains. Only last year Paul was invited by fellow PGA professional – and Fleetwood's long-term coach – Alan Thompson, to spend a practice day at the BMW PGA Championship at Wentworth.
"We were walking round all together and it was pretty breezy," recalls Ashwell. "I said to Tommy, 'It's tough here – how do you judge the wind?' He just looked at me and said. 'I remember how you taught me to read the trees when we were out in Slovenia at the European Team Championships.' That was over 10 years ago and I thought, 'That's cool – he'd still got that as a really simple but useful skill."
Ashwell's eye for detail and professionalism – among other skills – resulted in him being listed as a Golf Monthly Top-25 UK Coach. His talents also led to him being named as Cambridge University's first-team coach. The Light Blues had lost seven straight matches when Ashwell was appointed in 2017. Within a year, he'd helped buck the trend as Cambridge triumphed at Royal Porthcawl.
"They are really keen and the standard in our team is from around scratch to 3-handicap – that sort of level," explains Paul. "They are not aspiring to become tour pros. They enjoy golf at a good amateur level and have a stellar fixture list. It's a great institution to be involved in because when you get a Blue, you become a member of the Oxford and Cambridge Golf Society, which offers lots of opportunities."
The opening day of the Varsity match sees five foursomes staged over 36 holes. The next day there are ten singles matches, again played out over 36 holes. That's quite a gruelling schedule and this time around preparations have not been easy. Usually, Paul sees the team on Mondays through the season at his coaching base at St Ives but due to Covid-19 restrictions and then exams, practice has only just resumed.
"Our first training day was June 14 and we staged that as an on-course session," says Ashwell. "I walked round three sets of nine holes with the players to get a sense of where they are and have a chat with them, find out what they feel is realistic to develop given that the match is July 6 and 7. There's no way we're going to do any major earth-moving stuff – it's about can you make any small adjustments that can have a significant benefit."
Whatever the outcome of the Aldburgh head-to-heads, Ashwell will thoroughly enjoy the week and is sure his team will, too.
"Team golf is the best version of our game in my experience," he says. "If you listen to the superstars talking about Ryder Cup, for example, they speak glowingly about the experience. Team golf is just fantastic.
"When you get a group of guys coming together, they're all pulling in the same direction, it's a great vibe. Normally golf is an individual sport and of course that's one of the challenges; to bring individuals together, to gel and support each other, to be part of a team."
With Ashwell at the thick of it, the class of 2021 have the perfect teacher to oversee the process – and their progress.