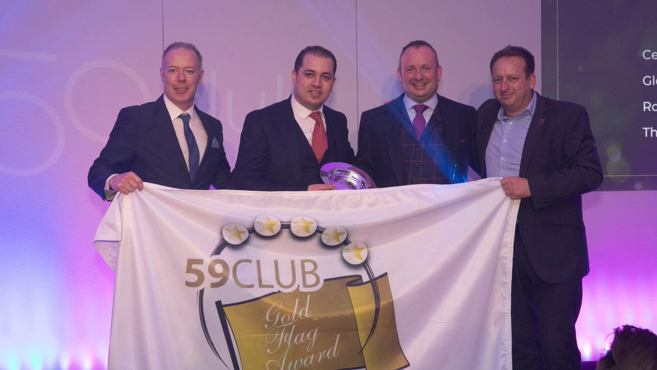 PGA Members were among the winners at the 12th annual 59club Service Excellence Awards, which recognise the best venues, teams and individuals for achieving the highest standards of excellence in 2021.
A welcome return to a 'live Event' saw industry professionals from across the UK, Ireland and Europe (south) assemble at The Belfry Hotel and Resort on 3rd March, 2022 for the popular awards ceremony.
The awards recognise the finest customer service providers for having achieved the highest standards of excellence in 2021. 59club's illustrious accolades are determined by scores collected from their impartial mystery shopping audits, which evaluate the experience afforded to visiting golfers and prospective members, in accordance with 59club's objective benchmarking criteria.
PGA Member Sean Graham (Foxhills Club & Resort) was named as 'Golf Manager of the Year' alongside PGA Business Management Group member Brad Gould (The Grove) and Stephen Hindle (Worsley Park).
David Coles (Harpenden Golf Club), Thomas Hughes (The Belfry) and The Retail Team at Crane Valley Golf Club won the Golf Retail Manager of the Year accolade.
PGA National Scotland, Gleneagles collected the highly-prized award of the evening after being announced as the 'Ultimate Resort', recapturing a title they last one in 2018.
Andrew Jowett, PGA Head of Golf of Gleneagles, commented: "This award underlines an incredible team effort, not just in golf, but across every facet of our 850-acre estate. It is an important accolade because it recognises world-class customer service and experience, something we strive for every day at Gleneagles.
"The fact this award comes as a direct result of authentic, independent and benchmarked visitor feedback, underlines its importance and value to us as a leading hospitality and leisure business."
59club presented awards across 29 categories, recognising 'service excellence' spanning all areas of the businesses, from sales and service, to retail and management.
Will Hewitt, General Manager of 59club UK, said: "It was an honour to recognise and celebrate our leading service providers in person once again, and while the past year presented huge challenges for the golf industry, relating to both the operation and the people within those businesses, that only added to the splendour.
"Golf has been incredibly fortunate to benefit from a significant surge in demand, and it is extremely encouraging that more venues than ever before are choosing to work with 59club to focus on their service offering and sales levels whilst working to engage and keep this new audience.
"59club's focus will remain the provision of objective and accurate performance data, providing greater market insights and a supportive network of likeminded professionals which will further aide performance enhancement."
CLICK HERE to find out more about the 59club Service Excellence Awards.