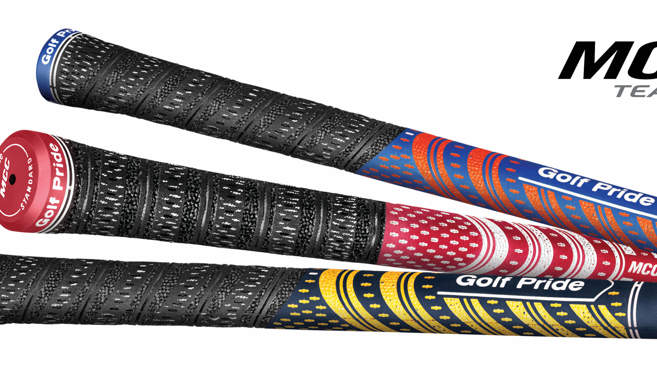 Long-standing PGA Partner, Golf Pride, has expanded its popular MCC® family of hybrid grips with the new MCC Teams collection.
First revealed in January, Golf Pride, the industry leader in grip innovation, the #1 Grip on Tour® and long-standing partner of the PGA, has expanded its popular MCC® family of hybrid grips with the new MCC Teams collection. 
Now available throughout the UK, the initial launch of the MCC Teams collection consists of 15 colour combinations to choose from, meaning PGA Professionals can offer golfers the unique opportunity to represent their favourite sports team every time they take to the course.
The MCC is the #1 Grip Series Worldwide™ and has been used by both amateurs and professionals to win over 250 times on Tour. The patented multi-compound design fuses the positive performance of rubber and cord for the ultimate in feel and responsiveness.
"The MCC Teams grips are an extremely exciting collection that will enable sports fans and PGA Professionals across the country to interact like never before," commented Conor Dillon, EMEA Regional Manager, Golf Pride.
"This collection is totally unique. Game-changing technology combines with raw passion for sport to provide golfers with their ultimate grip. Together with the help of PGA Professionals, we are thrilled to be able to help more golfers show their colours."
This latest addition to the MCC family maintains the same high-level performance and quality that the best-selling multi-compound design has consistently delivered since its inception.
With the MCC Teams collection, professionals can tailor their Golf Pride grip walls and displays to match the support of their membership to drive interest in the range of colourways available.
"Sport is slowly making its long-awaited return, and with the recent crowning of the new champions of England, our red and white MCC Teams colour combination has been a popular choice for professionals right across the country," Dillon added.
PGA pros can also help golfers select the next MCC Teams colour combinations by directing them to the Golf Pride website, www.golfpride.com, where they can enter the colours of their favourite team.
All MCC Teams designs are available now in both standard size and midsize. For more information on the MCC Teams collection and the entire Golf Pride 2020 product offering, visit www.GolfPride.com.