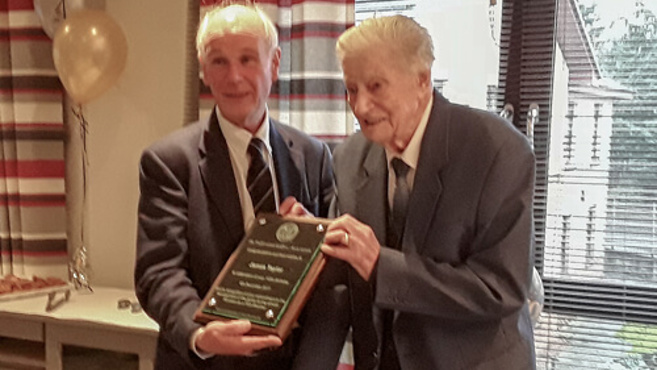 The PGA is saddened to announce that James Taylor, its most senior Member and a recipient of the prestigious John Panton award for outstanding service to golf in Scotland, has passed away at the age of 102.
James, or Jimmy as he was known, died peacefully in a Scottish nursing home after a career in golf that spanned more than half a century.
Originally from Leven in Fife and the son of a police officer, Jimmy was born during World War 1 in December 1917, almost 11 months before peace was declared.
He became involved in golf through his aunt when he was nine and five years later began an apprenticeship as a club-maker with J R Carstairs in his home town.
His career was put on hold for six years during World War II when he served in the Royal Army Service Corps in Europe, emerging unscathed from the horrors of Dunkirk, before being posted to the Middle East and Africa.
Jimmy resumed his career as a club-maker when hostilities ended and, following his marriage to Ann in 1950, moved to East Kilbride and continued his trade with McLays in Glasgow.
His skills making clubs were matched by his use of them on the course: a scratch golfer, he won the Bishopbriggs Golf Club championship in 1951.
However, the closure of McLays following the death of its owner in 1955 prompted a partial change in the direction of his career.
"He opened a sports shop in East Kilbride," recalls Alistair, one of the couple's two sons. "But he continued to make clubs. He was an exceptional club-maker and was sub-contracted by two Glasgow firms – Pirrers and Donaldsons.
"He would make 24 clubs for Pirrers and 16 to 20 for Donaldsons and had to take a bus to Glasgow to deliver them. He was paid £10.
"As for his prowess as a golfer, he didn't hit the ball a long way but was the straightest hitter I have ever seen. But he was a terrible putter – because he was brought up in the hickory era he had a real jabbing stroke.
"Rather than being 30 foot away from the hole on the green, my twin brother Stuart and I preferred him to be in a bunker. He always got up and down because his bunker play was that good!"
Alistair and Stuart, are identical twins and were born within half-an-hour of each other on May 21, 1959, the day Jimmy was asked to take over the professional's shop at East Kilbride Golf Club.
Both inherited their father's golfing skills: Alistair became the youngest winner of the Scottish Amateur Strokeplay Championship in 1978; a year beforehand, Stuart had won the Scottish Boys Championship.
Stuart went on to become a full Scottish amateur international and Alistair turned professional in 1979 and took over at East Kilbride when his father retired in December 1986.
Jimmy was made a PGA Honorary Member in 1989 and received the John Panton Award 20 years later. He was also presented with a commemorative plaque by the former PGA chief executive Sandy Jones (above) when he turned 100 in December 2017.
Jimmy, who was pre-deceased by Ann in 2018, is survived by Alistair, Stuart and Jean his daughter. The PGA extends heartfelt condolences to them on their loss.