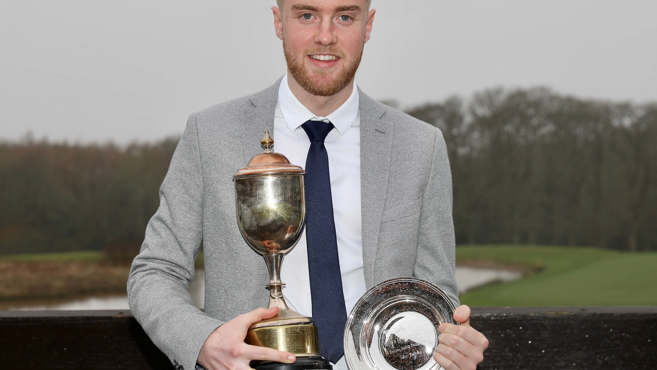 Cumberwell Park PGA Professional Alex Jacobs had his hands full after treading a familiar path at this year's PGA South West Regional Members' Meeting.
The 20-year-old, pictured, achieved a unique hat-trick by winning the TGI Regional Assistants' Award for the third year running.
Having won the award for his work during his first and second years as a PGA Assistant, Jacobs completed his training in familiar fashion – by winning the one for year three. 
But that was not the only prize Jacobs, the son of John, the head PGA Professional at Cumberwell Park, collected during the meeting at Woodbury Park near Exeter.
He also received the Blenkarne Cup, an award donated by fellow PGA Professional Nigel Blenkarne more than 30 years ago.
"The Blenkarne Cup, which was first presented in 1986, recognises the region's leading Assistant professionals for their achievements in training, development work and tournaments," explained PGA South West regional manager Robert Moss.
"This year's award goes to Alex Jacobs, the leading assistant in the TGI awards for the past three years.
"Alex has shown excellent commitment and dedication to his training – to be the winner each year is no mean feat given the number of trainees.
"He is passionate about coaching, custom-fitting and is involved in the junior academy at his club."
TGI, Europe's leading golf retail services group, has sponsored the awards for the past decade and Jacobs' successors as winners of the year one and year two accolades were The Vale Resort's Georgia Lewis and Rhys Pugh from the Glamorganshire Golf Club.
Meanwhile, five more senior PGA Professionals were presented with awards during the meeting.
Clevedon Golf Club's Ashley Mansell was named regional captain Giuseppe Licata's Player of the Year following a season in which he topped the Order of Merit for the second time in three seasons after winning three of its four events.
Sarah Sutcliffe of Tickenham Golf Club won the Development Coach of the Year and Bath Golf Club's Russell Covey was named Coach of the Year.
"Sarah is very proactive in her quest to grow the game," said Moss. "She is responsible for organising and delivering nine junior classes a week, two monthly junior academy classes, 30 junior competitions a year, hosts an annual junior mini tour, also runs free golf tuition classes for cubs, guides, scouts and beavers.
"In addition, she organises junior autism classes and gains funding for a disability youth club twice a month.
"She runs regular golf taster programmes and follow-on courses creating a player pathway. She organises weekly lessons for stroke survivors and recovery patients and an annual tournament for which she won a nationwide award. In 2019 she also raised £1,000 for Rowcroft Hospice, Torquay, and £250 for Macmillan."
Covey has been similar proactive throughout his career and Moss said: "Russell has consistently shown an appetite for developing his skills as a coach and earned a great reputation in the region for his coaching skills.
"His impressive CV includes stints as Surrey Girls coach, head county coach Somerset Girls, Bath University head coach, head county coach Somerset Ladies Golf Union, Somerset Golf Union under 16s performance coach, lead coach Somerset Golf Union men's squad, Somerset Golf Union performance director, and lead coach Somerset Golf Union boys' squad.
"He has also coached many players in the region who have gone on to achieve notable successes."
The quintet of prize-winners was completed by two PGA Professionals who have a combined total of more than £20,000 for charity: Kevin Pitts from Woodspring Golf & Country Club, Wells, and Licata, the outgoing regional captain from Filton Golf Club.
Pitts was the region's nominee for The PGA's Toby Sunderland Award as a result of his fundraising for Above and Beyond, a charity that supports Bristol Hospitals.
"Kevin raised more than £12,000 for Above and Beyond after spending 100 days on the ward at Bristol Royal Infirmary," said Moss.
"He underwent stem cell replacement treatment and, as a result, spent most of that time in isolation."
Despite taking on a new role at Filton Golf Club and captaining the region, Licata found time to raised more than £8,000 for two good causes – Southmead Hospital and The PGA Benevolent Fund (see separate story).