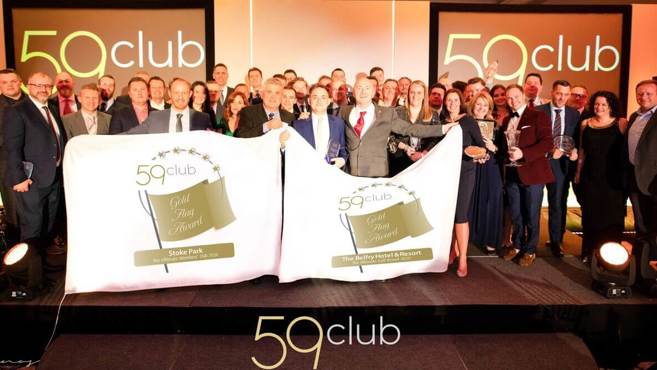 PGA Professionals were among the winners at 59club's 10thannual industry 'Oscars' at the Forest of Arden Marriott Hotel & Country Club.
Chris Reeve (The Belfry) retained his Golf Manager of the Year title (over £75 category) with The Belfry also named as the 59club's 'Ultimate Golf Resort' for the second year running.
Reeve said: "Having received crowning glory from 59club once is truly an honour, to maintain the highest prized accolade two years in a row across our entire operation amplifies the team's solidarity for delivering the greatest experiences in golf, cementing our position as Europe's Ultimate Golf Resort. 
"Retaining the Golf Manager of the Year title is a personal highlight in my career - as we continue to deliver the unforgettable member and guest experience that The Belfry is synonymous with, we all have a lot to celebrate."
Stoke Park took home the other big award on the night after being crowned 'The Ultimate Members' Club'. Speaking after collecting the award, PGA Member and director of Golf at Stoke Park, Stuart Collier, commented: "We have worked very closely with 59club since 2011 and this has enabled us to review, develop and improve the overall member and visitor experience at the club.
"At Stoke Park we are blessed to have world class facilities but we feel the interaction with the staff is the most important element of any visit and we rely on the 59club to provide us with real feedback to monitor, manage and improve this".  
Elsewhere, Sean Graham was crowned 'Golf Retail Manager of the Year' (over £75 category) for his work at Foxhills Club & Resort in Surrey – home of the 2021 PGA Cup.
59club's illustrious accolades are determined by scores collected from their impartial mystery shopping audits, which evaluate the experience afforded to visiting golfers and prospective members, in accordance with 59club's objective benchmarking criteria.
In total 59club presented 64 awards across 27 categories, recognising 'service excellence' across all areas of the businesses – sales, service, operations, retail, golf course, food & beverage and management.
Simon Wordsworth, PGA Member and CEO at 59club, added: "Ten years ago we celebrated our first award winning performances, and as I look back at that wealth of data, I am privileged to have witnessed 59club quite literally reinvent member and guest experiences across golf & hospitality using technology & data to measure, train and support our clients to achieve service excellence."