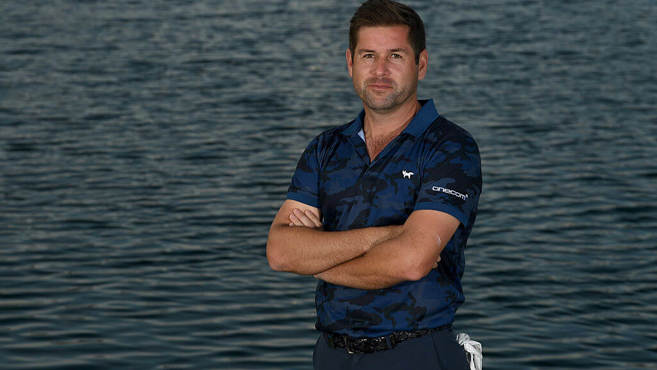 January 2012. It's the final round of the Abu Dhabi HSBC Golf Championship, where one of the strongest fields of the European Tour season has assembled.
The chasing pack includes Ryder Cup stars Rory McIlroy, Graeme McDowell, Thomas Bjorn, Paul Lawrie, Francesco Molinari and Peter Hanson. In the final group? Tiger Woods and Robert Rock, two shots clear of the field.
Rock, the then 34-year-old from Lichfield, Staffordshire, did not even expect to win himself.
"It would be more than I ever expected to achieve," he said, when asked to rate his chances of victory after a third round of 66.
On the final day, one of the leading pair would fall back into the pack, eventually signing for a 72. Incredibly, though, that man would be Woods, the then 14-time Major champion, while Rock held off the charge of McIlroy to win by a shot. 
The winner's cheque was almost £300,000 and took Rock to the brink of the top 50 of the world rankings and with a very real chance of making the European team for that year's Ryder Cup at Medinah.
Not bad considering that when Rock decided to become a PGA Professional as a teenager he envisaged a career teaching rather than playing.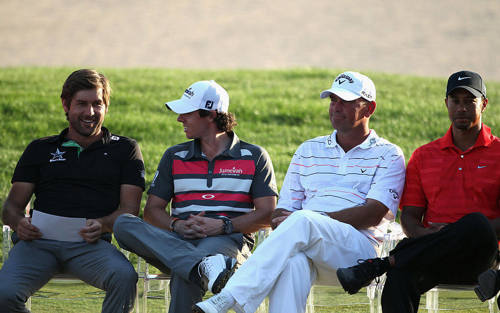 "I wasn't good enough as a player to think about having a life as a tour pro," he said. "But I really thought I could teach and win some money in assistants' events."
That put Rock in a minority with most of his fellow trainees hoping to play for a living. But then his pathway to success has never been a conventional one.
"I started playing golf with a family that liver near me – at a power station. It was a 9-holer and they had a junior competition every Saturday morning, which is unheard of.
"Then I wanted to join a club. I joined Ingestre Park – just because it happened my mum and dad knew a member there – in the days when you needed a proposer and a seconder. I got down to single figures, which was great. I met friends and played regularly."
And it was at Ingestre Park Golf Club, near Stafford, first came into contact with the PGA – in the shape of the club's assistant professionals.
"The pros there were Danny, Adam and Simon – they were all really good to me and the other juniors. I'd caddie for them occasionally and they'd show me what they were doing in their PGA training – they'd teach me how to re-grip clubs and how to finish a whipping off properly.
CLICK HERE to find out more about a career in golf with The PGA.
"At 14 or 15, I realised what the entry criteria was for The PGA and thought 'I'm going to be good enough to do this so let's start learning about golf'. And that became my plan for my job. I thought I could become a PGA Pro and be like Danny or Adam and Simon. I loved golf and I saw it as a job I could realistically do because I was nearly good enough and I could already do some club repairs and I was teaching myself a lot about technique. I didn't have any experience, but I knew my stuff. I always had it in the back of my mind," he said.
Rock's memories of training for his PGA qualification are a mixture of hard work and fun.
"I remember the purple manual," he said. "I'd best not go into the stories from the residential week too much but let's say that back in the day it was fun. I did things I probably shouldn't but got through it eventually."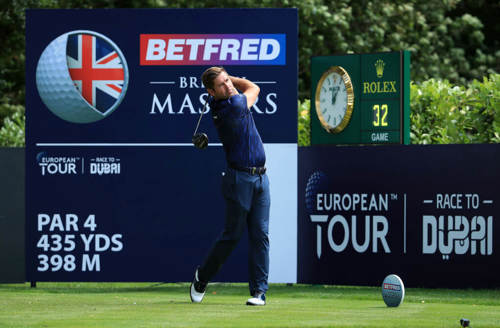 And he can still remember earning his first cheques as a professional golfer.
"It was something like £20 or £30 and then a couple of hundred quid and that was a big deal for me. It showed me that I was a pro now."
Rock was on his way – and that's still the way he feels now.
"The qualification part is just the start – I wanted to learn everything I could about teaching and playing. I thought I knew loads back then but I knew nothing. I've learned pretty much something every day since. Just passing your exams is not it – it's finding the part that interests you, that you know you're going to be thinking about every day. Whatever side of golf that is, that's got to be your passion that makes you want to do it every day."
As a trainee, Rock got a job at what is now Lichfield Golf & County Club.
"I worked under Richard O'Hanlon. He was really busy, he taught a lot and he played in every pro-am going. He'd always win money. I thought 'he's good at this'.
"I learned that skill off him. He was good at explaining to me that if you went and played you had to shoot under par, not try to be too fancy. It had to be better than staying on the range and teaching because otherwise you were losing money you could have been earning."
It is the likes of O'Hanlon that represent to Rock all that is best about the PGA.
"The heart of The PGA for me is the role models you get as a trainee," he said. "How keen are they on your development as a pro or are you just filling in hours in the shop for them? "I was lucky to have good pros around me. They had no reason to put any faith in me beyond that I was keen and I put the time in because I wasn't anything special as a player.".
Ever-modest, Rock says his breakthrough was down to perseverance – and more than a little help from The PGA.
"It is fascinating how that happened from being an assistant pro just trying to make a couple of hundred quid here and there. The assistant pro and club pro events I used to play in were brilliant fun, even though you weren't playing for a lot of money. I used to play in the National Assistants' Championship and go with the same group and stay together and go out on the town together and go early for practice rounds. It was brilliant. That was down to all the pros having something in common and understanding the job and wanting to enjoy themselves."
CLICK HERE to find out more about a career in golf with The PGA.
So how did he go from events like these to the big time?
"My playing career is a credit to The PGA – it probably won't be done again. The PGA secured invites to the tour events that came to your region if you did well in your regional order of merit, Midlands in my case.
"So, in 2002 I earned starts at The Belfry and Forest of Arden. I missed both cuts – The Belfry by double- bogeying the last on Friday. I had no idea where my game stood up until then and I thought wouldn't it be cool to see what they're like and if I could nick a little bit of money. Then it became my goal to win the Order of Merit and that got me a place at Wentworth as well the next year.
"I decided to pay my money to be an affiliate member on the European Tour which includes entry to Q School and it meant my name would appear on the order of merit.
"I put the £2,500 cost on my credit card because I had no other way of paying it – and I won £164,000. I got my card, which was absolutely amazing. In the space of two months I finished 21st at the Belfry. I was leading at one stage on the Saturday afternoon at Wentworth, finished in the 20s. Then I came fourth at Forest of Arden and won £100,000. Up to that point my biggest cheque by a mile was winning the British Par 3 Championship, which was some way short of £3,000. Now, almost 20 years later, I'm doing interviews about my career on tour."
Rock has come full circle. He has set up the Robert Rock Academy and splits his time between teaching and playing. As well as mentoring some outstanding young talent, he works on tour with the likes of Lee Westwood and Pablo Larrazabal. A student of the golf swing, he reads voraciously and counts golfing legends like Ben Hogan and Moe Norman among his inspirations.
It's all a far cry from those early days at Ingestre Park.
"Some people say you should set goals but how could you realistically aim for that? I can remember watching Tiger Woods winning tournaments and watching the Masters at the golf club at night and thinking 'this guy's amazing, I'm never going to get to play with him'.
"So there you go. The game can surprise you if you keep working at it. It shouldn't happen. Up to that point, the main thing you get asked by the general public when they find out you're a tour pro is have you played in the Masters and have you played with Tiger Woods. I'd always say no and no – and then that happens. It's brilliant really."
CLICK HERE to find out more about a career in golf with The PGA.