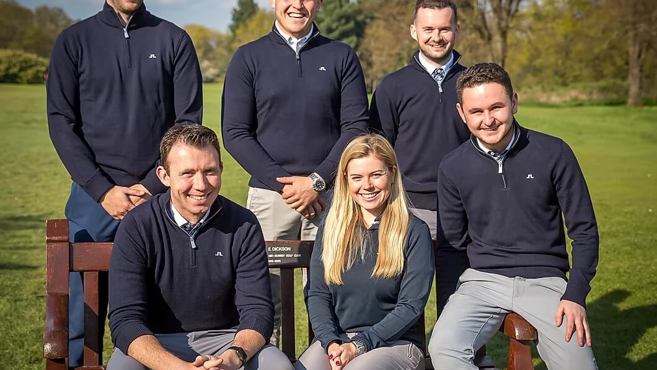 Dean Rodgers has followed in the footsteps of JH Taylor and Sir Henry Cotton by becoming only the seventh head PGA Professional in Royal Mid-Surrey Golf Club's 128-year history.
Rodgers (above, front row, left) has been at the club in Richmond, south-west London, for 13 years after arriving as a trainee.
He has succeeded Matthew Paget who has relinquished the role but will continue to expand his golf and retail business with the club's support.
Commenting on his promotion, the 34-year-old said: "It's a great honour for me to take on the task of head PGA Professional at the club and to follow in the footsteps of such historic figures.
"My own expertise began with the development of talented club members and the juniors we have under our thriving academy systems.
"The aim now is for my talented team and I to offer the best possible services in terms of coaching, club-fitting and retail to all our members and visitors."
Rodgers, who hails from Balham in south London, will now oversee the work of the club's assistant professionals and retail assistants, all of whom will continue to be employed by Paget as part of the new arrangement.
Paget commented: "I am so proud to have served as head PGA Professional at Royal Mid-Surrey since January 2007.
"I have loved every moment and have so many fantastic memories. I am delighted to be succeeded by Dean, who has worked with me for 16 years and developed into the best club professional for the best golf club in the country."