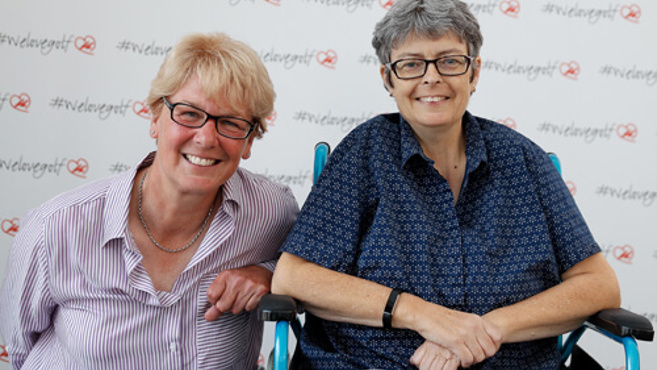 PGA Captain-elect Sarah Bennett will take the total she has generated for research into a rare form of cancer to more than £20,000 when she leaves her comfort zone to run a half marathon next month.
Bennett promised to help medics beat cancer of the thymus gland (thymic carcinoma) after her close friend Wendy Lodder succumbed to a condition that affects fewer than 10 people annually in the UK.
Lodder, an England Golf under 18 east region volunteer manager, underwent two major operations, and received chemotherapy and immunotherapy treatment at Guy's Hospital, London, after she was diagnosed with the disease in 2016.
However, the 52-year-old passed away two years later, just three months after the first fundraising golf day at the Three Rivers Golf and Country Club in Chelmsford, Essex.
The event, organised by Bennett, a PGA Fellow Professional who will succeed Bernard Gallacher as the Association's Captain in 2022, raised £10,000.
She doubled that amount the following year by holding a second fundraising golf day and a third is scheduled to take place at Colchester Golf Club on September 10.
In the meantime, Bennett will take part in the virtual Colchester half marathon on March 21 and has already exceeded her fundraising target of £750.
Commenting on her latest fundraising venture, the 52-year-old said: "I am new to running so this is a mammoth challenge.
"But I am determined to achieve a task which is insignificant in comparison to the journey Wendy endured.
"I am delighted we have the support for additional fundraising activities in what has been an extremely difficult two years. I am determined to raise awareness of this rare and aggressive cancer and to fund research which will help more people in the future."
"To that end we are continuously exploring various fundraising options to fulfil Wendy's wishes and in that respect I am delighted golf can bring everyone together as it was her passion.
"To have the next event held at Colchester Golf Club is special as this is where I started my golf career, and it's the club Wendy was associated with in her final few years."
Bennett (pictured above left) was presented with The PGA's Toby Sunderland award for her charitable work during the Open Championship at Carnoustie in 2018 and Lodder (above right) accompanied her to the ceremony.
Lodder passed away shortly afterwards and Bennett recalled: "Remembering the presentation provides ongoing motivation, but more importantly, the sheer strength of character and positivity Wendy displayed on the night in front of distinguished guests whist suffering internally. I know Wendy would be delighted with the progress and ongoing ground-breaking research.
"As a result of this progress, my colleague and I are very pleased to announce we are now in a position to hand over a further £10,000 from Wendy's Thymic Fundraiser to the research team at Guy's and St Thomas'.
"This will help cover funds for the second phase of research which we hope will find alternative options for people with this rare cancer, such as a targeted therapy."
To support Sarah's half marathon, please click here