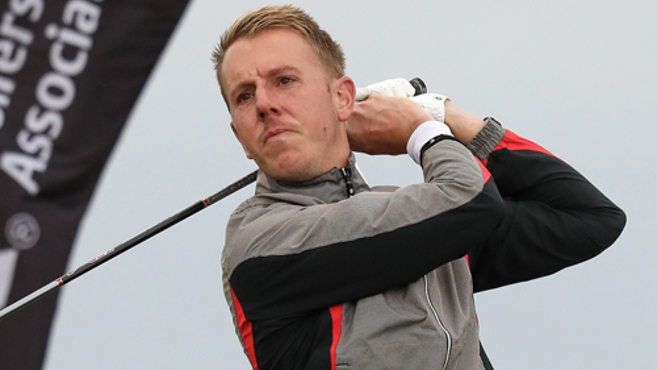 James Ruth defied the elements and strong opposition to win the penultimate event in the PGA South West region's 2021 schedule – the North Devon Links Festival.
The annual festival is contested over three courses - Royal North Devon and the East and West at Saunton – each of which presents a tough test in the most favourable climatic conditions.
A cocktail of strong winds and heavy rain over the event's three days made them even more challenging, however.
All of which goes a long way towards explaining why Ruth was the only member of the 41-strong band of PGA Professionals to break par.
Perversely, his worst round – a two over par negotiation of Saunton's East course – came on the final day when, compared with the first two, the conditions were kinder.
Ruth, however, had laid the foundations towards claiming the £1,600 first prize on day one with a three under par round of 69 at Royal North Devon.
Reflecting on that round, the pro from China Fleet Golf and Country Club, Cornwall, said: "I always seem to play well at Royal North Devon for whatever reason.
"And I played really well again this time although I had a bad finish."
He followed up with a level par 71 on Saunton's West Course to go into the final round on equal terms with Wessex Golf Centre's Michael Watson and two shots adrift of Glyn Abbey Golf Club's Martin Stimson.
Watson, who finished tied-fifth, lost momentum on day three, as did Stimson. Two bogeys on the front nine allowed Ruth to erase the deficit by the turn and another two on the way home coupled with a double bogey on the par-four 14th proved even more costly.
Ruth followed suit at the 14th but a birdie at the par-five 15th ensured he finished a shot clear of Stimson and two ahead of the region's latest Order of Merit winner, Toby Hunt, and his predecessor, David Dixon.
Despite posting his sole over-par total of the festival, Ruth was happy with his round.
"I played really well on day three," he said. "I made a couple of silly mistakes with irons in the wind.
"But local knowledge helped me as I've played these courses before. Knowing what to hit off the tee and things like that is very helpful. I love coming up here and really enjoyed the event."
Meanwhile, Watson earned a degree of consolation by leading his trio of amateurs – Rob and Gareth Price and Steve Walton – to victory in the Stableford two-ball better-ball format team event with a total of 246 points.
CLICK HERE for a full list of scores.