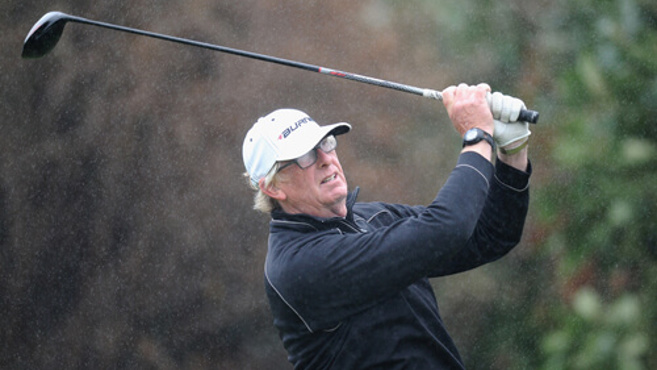 The PGA is saddened to learn that Simon Parker, a Member for more than 40 years who was based in Germany, has passed away at the age of 64. His son, Mathew, who is also a PGA Professional, reflects on his father's life and pays tribute to him.
Simon Parker was a member of what, without exaggeration, quite simply can be described as a modern-day golfing dynasty. He was one of six golf professionals in the family, two of whom have excelled competitively.
His niece, Florentyna Parker, represented Europe in the 2017 Solheim Cup and is a Ladies European Tour winner; his nephew, Ben Parker, was an England elite squad member and won the Junior World Championship and a number of professional events in Europe.
By contrast, Simon's elder brothers, Chris and Tim, and I, like him, have forged successful careers as PGA Professionals with a passion for coaching.
His love affair with the game began when he and his brothers caddied for their mother at Burton on Trent Golf Club. All three followed up by completing their PGA training at Lilleshall in the early 1980s, learning how to whip clubs, polish persimmon heads and, like most assistants in those days, harbouring dreams of making it on tour.
In order to hone his skills and find the right opportunity, Simon worked at Rugby, Whittington Heath, and Oxley Park Golf Clubs in the Midlands and also with Tim at Verulam Golf Club, St Albans.
It was a time when golf in Germany was booming and Tim followed Chris to work in the country and, with both his brothers fashioning successful careers as coaches, Simon followed suit.
Having caught the ferry to Hamburg, Simon began work at Golfclub Hamburg-Walddörfer before moving to nearby Golf-Park Peiner Hof, remaining there for the next 20 years passing on his knowledge and passion for the game to thousands. As he did at Golf Club Gut Haseldorf, the club where he spent two years before his untimely passing last month.
In addition to helping others develop their skills, Simon did not neglect his. Even when times were hard or things not going as well as he would like, Simon always looked forward to getting on the range and working on his game.
On days when he was coaching, he would arrive at the range early to hit balls before his first lesson. This would often result in 14-hour days during the season, and when my brother and I suggested he should take things a bit easier he would say he loved coaching and if a student wanted to improve it was a privilege to help them.
That desire to grow the game and enhance his students' skills and love of golf was clearly contagious as I have ended up spending 10 years in the Middle East and setting up some incredible facilities.
There is no doubt my father was a very proud PGA Member and he fully understood that the role of today's PGA Professional is more than just introducing people to the game we all share such a passion for. To that extent I have to thank him for creating that love and passion in me, especially as it allows me to pass that commitment on to the generations that follow us.