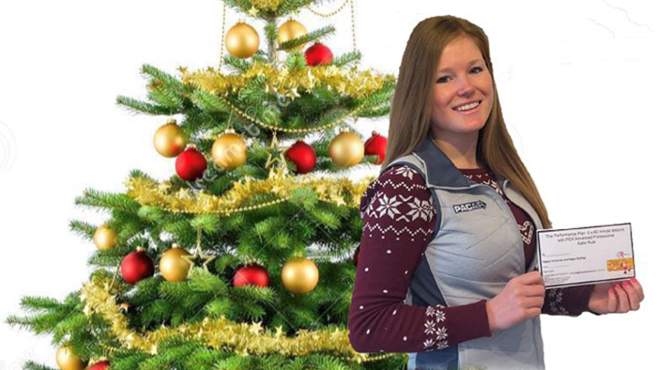 Innovative PGA coach Katie Rule is hoping this December mirrors last year when it proved her most lucrative month of 2020 despite historically being the quietest in terms of seeing clients.
The apparent paradox was due to the success of the 29-year-old's initiative that offered relatives or friends of keen golfers the opportunity to give golf lessons with her as Christmas presents.
Promoted on Rule's website and via emails to the 1,000 plus members at her Somerset base, Mendip Spring Golf Club, the Christmas Voucher scheme included an array of lessons ranging from a half-an-hour session to an 18-hole playing round.
Buying a lesson was simplicity itself. The online process involved the purchaser choosing the gift, paying for it, and then downloading the voucher, which could then be printed and given to the recipient.
And such was the demand for her Christmas Voucher initiative that Rule's expectations were exceeded by some distance.
"I thought I might sell a few," admitted Rule, the youngest woman to attain PGA Advanced Professional status and qualify as a director of golf.
"So I was amazed by how popular it was. It's no exaggeration to say it was my best month of the year for income. Obviously, the lockdowns skewed things and fuelled demand for golf lessons and playing the game."
Rule has followed the same promotional route this year, albeit with one addition.
"The email to all the Mendip Spring members and others on my database includes the link to YouTube which shows a Christmas-themed practice drill using wrapping paper I've created," she explained.
"Hopefully the promotion will prove as popular this year, if not more so. I launched it a week ago and already the signs are very positive."