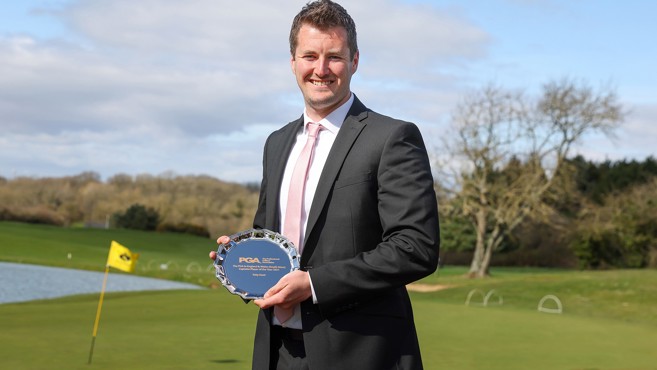 Cardiff golf professionals Toby Hunt and Barrie Thomas scored a rare double by winning two of the PGA South West region's top awards for 2021.
Hunt, the new head pro at St Mellons Golf Club, won the region's Captain's Player of the Year award while Thomas, his predecessor at the club prior to retiring last October, was named Professional of the Year.
That the pair should be honoured simultaneously is in keeping with an association that began almost two decades ago when Hunt (pictured above) became a member at St Mellons.
Since then, the 28-year-old has become one of The PGA's most accomplished players, winning the Welsh National PGA Championship in 2018 as well as heading his region's Order of Merit last year.
He attributes much of that success to the support and coaching he has had from Thomas and recalled: "I joined St Mellons when I was 10 and began working for Barry on a part-time basis when I was 18.
"I turned pro at 19 and once I qualified as a PGA Professional Barry wanted me to play, so I'd help out in the shop when I was needed. I did some coaching but prioritised playing.
"We had a unique relationship and he's always been brilliant with me – he's been my coach as well and never charged me for a lesson. He didn't really charge me for any clubs either!
"He did everything he could for me to make a success of playing so I can't thank him enough for everything he's done for me."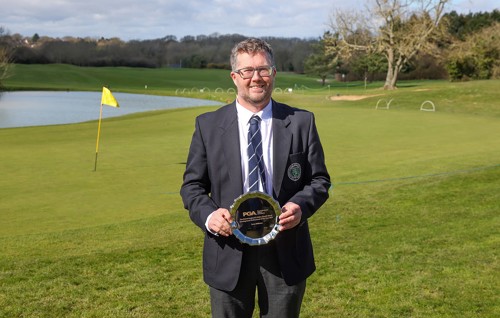 Meanwhile, Terry Williams (pictured above), Thomas Motley and Darren Everett were recipients of other awards presented during the region's annual general meeting at The Kendleshire, Bristol.
Motley, the head PGA Professional at the host venue, was named the 2021 Coach of the Year, an award that follows him being ranked among Golf Monthly magazine's Top 50 UK Coaches.
Williams, the head pro at Wells Golf Club, won the Development Professional of the Year award for his success in growing the game.
And Everett, the director of golf at Exeter Golf and Country Club, was presented with the Charity Fundraiser of the Year award for inspiring and taking part in a 24-hour golfing marathon that raised £8,000 for Marie Curie UK and Hospice UK.
Barry Austin, the region's outgoing captain who has been succeeded by Kevin Pitts, also made a valuable contribution to charity during his time in office by raising £6,000 for Young Lives against Cancer.
The TGI awards presented annually to the region's leading PGA Trainees went to Thomas Atkins, Rich James and Georgia Lewis from Years 1, 2 and 3 respectively.