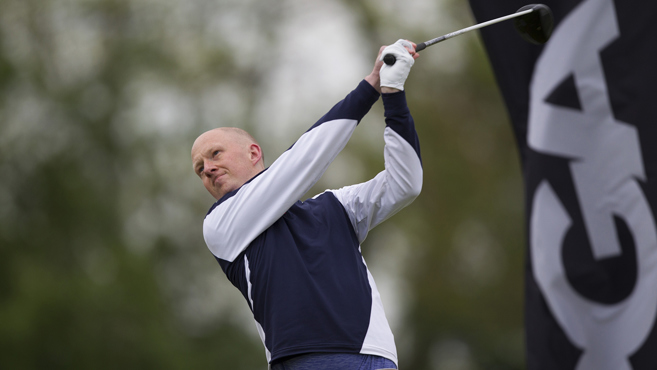 Mark Staunton (Mark Staunton Golf) produced a brilliant five-under-par 67 in stormy conditions to take a two-shot lead into the final round of the 111th Irish PGA Championship at Carne Golf Links.
The Wild Atlantic Dunes course was battered all day by strong winds and frequent showers but Staunton defied the weather, recording four birdies, an eagle and just one dropped shot.
"It was a tough day and I'm glad to be in out of it," said Mark.
"I just got lucky. Made a couple of nice putts early on, battled away and picked up a few nice shots coming in so the 67 was a great result.
"I felt that I managed myself very well today and picked the right shots to hit at the right times.
"I tried my best to keep dry, but couldn't, it was a bit of a bruiser and luckily I just hit a lot of pretty good shots."
Overnight leader, Richard Kilpatrick (Banbridge), carded a one-under-par 71 to finish day two on seven under par with David Higgins (Waterville Links) in third on four under.
Defending champion, Simon Thornton (Tulfarris Golf) finished the day on two under par alongside Colm Moriarty (Glasson Lakehouse) and Lee Campbell (Co Armagh).
"We got the best of the weather to be honest. We probably got four or five holes wet, the rest were pretty good to be honest," said Simon.
"It is pretty miserable but that is links golf for you and it's the West of Ireland but we're all used to it coming out here.
"I'm still in the hunt, anything can happen. I will obviously need to go low and hope they falter."
He added; "That score of Mark's is just unreal. To shoot five under today, that was probably eight or nine under in normal conditions."
The cut fell at 159 with 50 players making it through to the final round. The leading group of Higgins, Kilpatrick and Staunton will get their final rounds underway at 11am with the winner collecting a €6000 first prize.
"I think there is a score out there as Mark and Richard have shown already," said Moriarty.
"To see the guys at nine and seven under is great scoring. If you control your ball off the tee, there are a lot of short to mid irons into the greens. I can't be waiting for the guys to come back to me, I have to go out and go low."