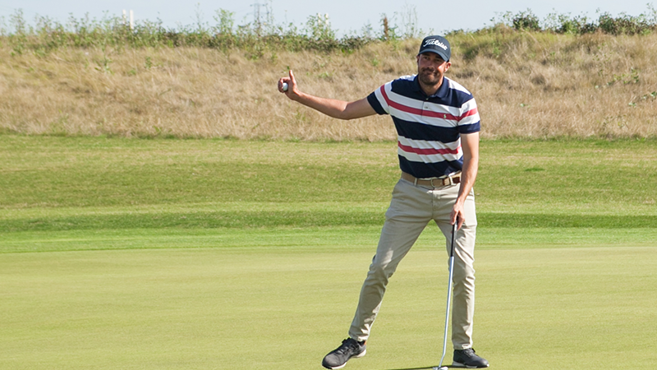 Mark Talbott (Thorpe Hall) gave a two-day masterclass as he cruised to an eight-shot victory in the East Anglian Open at Ingrebourne Links.
Talbott fired fine rounds of 65 and 69 to finish in splendid isolation at 10-under-par. It was his second Order of Merit triumph – but a maiden win in his own right after sharing first place with two others in the East Region Championship last year.
The success was well and truly set up by an outstanding seven-under-par course record on day one. He made seven birdies and an eagle to put distance between himself and the field.
A five-shot buffer grew on the second afternoon, thanks to birdies on 13, 15 and 16 that allowed him to enjoy a relaxed victory stroll down the closing stretch.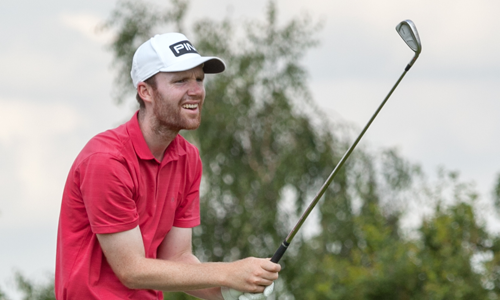 Harry Casey produced a three-under-par second round to finish runner-up
Harry Casey (The Shire), took second spot, while Neil Mitchell (Ipswich Golf Centre), Nic Cains (Swaffham) and Luke Goddard (Hendon) finished in a share of third.
But the East Anglian Open was all about Talbott, who jumped to the top of the overall Order of Merit standings with this superb win.
Talbott, 33, said: "It means a lot to me. It's the first time I've ever won a multi-round tournament as a professional – so it has been a long time coming. 
"It feels great. I've been knocking on the door for quite a while in the Order of Merits and had quite a few good chances in the last two or three years. But it has all come together nicely over the two days here."
Talbott has gone lower once before as a professional – he shot eight-under in a pro-am at Berkhamsted. But his display on the stunning 'North East' layout at Ingrebourne Links will live long in the memory – and not just Talbott's. Many of his peers were also wowed by the Essex ace's first-round statement of intent.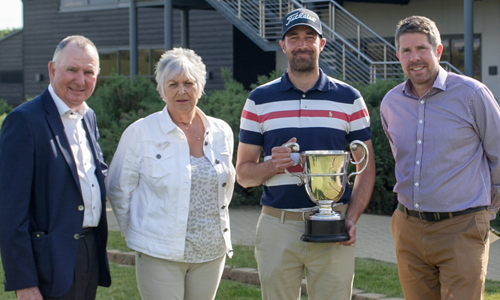 From left; Ingrebourne Valley chairman John Pryor and his wife Judy alongside East Anglian Open winner Mark Talbott and Ingrebourne's general manager Dominic Eagle
Talbott reflected: "To shoot seven-under, you can't be doing anything badly. I did make the most of my round. There was a couple of bad shots and I recovered with just a single dropped shot or a really good par. 
"But the all-round game was good. I've been driving it well for quite a few weeks – months even. But the putter was on as well, which always makes it a bit better."
Talbott did admit to playing a shade defensively early in his second round but after a rare mistake at the 12th, he immediately bounced back and remained on the front foot all the way to the clubhouse.
Runner-up Casey, who is preparing for his second year as a PGA trainee, showed plenty of polish in signing for scores of 73 and 69.
Casey said: "I played much better the second day than the first. I kept the ball in play a bit more, which round here is essential. You can set up chances from there. 
"This is my first season playing on the East Region, so it's nice in the second event to have a good result and hopefully I'll play well in the last one as well."
The East Region Championship concludes the 2021 three-tournament Order of Merit series – and will take place at Bishop's Stortford on September 1-2.