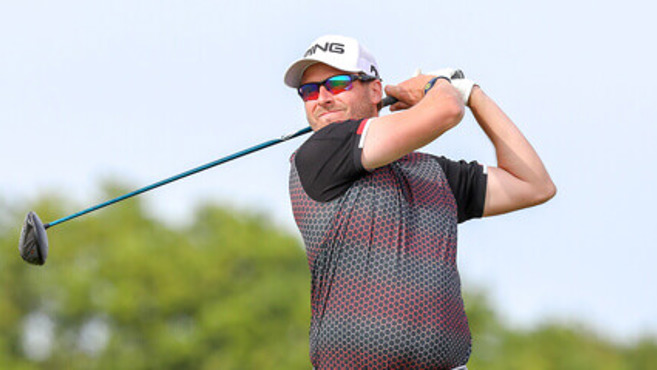 When it comes to making hay of the golfing variety at Hunstanton, sunshine is an optional extra. A lack of wind, by contrast, is essential.
Which goes some way towards accounting for almost half the field in the opening round of the Titleist and FootJoy PGA Professional Championship breaking par.
"It's always windy here but today is a rare exception," said one of the Hunstanton members who, like their counterparts at clubs that host PGA tournaments across the land, freely give of their time to ensure the event runs smoothly.
The tasks undertaken by these invaluable volunteers include ball-spotting, collating scores and manning scoreboards.
However, when it came to ball-spotting on the first day of The PGA's flagship tournament that carries a £78,000 prize fund with £10,000 going to the winner, any need for volunteers to search for errant examples of the sponsor's products (other brands are available) was due to operator error on the part of the golfers as opposed to the wind gusting in from the North Sea and blowing them off course.
Not that there was any sign of operator error from Alastair Forsyth (above). The Scot, playing in a three-ball that included PGA Cup vice-captain Michael Watson, negotiated a course that is rated one of the most challenging in the Britsh Isles without mishap.
He signed for a bogey-free seven-under-par round of 65, a score that was matched by James Freeman (top).
He, too, was under scrutiny from PGA Cup notability, no less than Cameron Clark, captain of the Great Britain and Ireland team that will take on the USA in Texas in late September.
In Freeman's case, however, an audition may be superfluous. Selection for the 10-strong PGA Cup team, aside from the three places secured by Rob Coles, Matt Cort and David Dixon via the PGA Play-Offs plus the captain's pick, is based on points earned from this and last year's PGA Professional Championship.
Having finished third last year, Freeman, who represents Retford Golf Club, Nottinghamshire, is already well-placed to claim his place in the team.
So is Paul O'Hara. The Scot, who won the tournament in 2017 and was runner up at Little Aston last year, posted a five-under-par round of 67 to occupy third place with four others.
Just champion: Defending champion Andy Willey (right), Paul O'Hara (winner 2017) (left) and Sion Bebb (winner 1999)
That quintet includes O'Hara's compatriot Greig Hutcheon, who holed the putt that won the PGA Cup in 2017.
Others with PGA Cup selection in their sights who have started well at a venue on England's east coast that is situated so that the sun is seen rising and setting over the sea include Jason Levermore and James Whatley.
Both posted scores of four-under-par to lie tied eighth with six others.
Meanwhile, the defending champion, Andy Willey, has some work to do after finishing on level-par. As things stand he is tied 61st and, with the cut after two rounds including the top 50 and ties, his continued participation is in jeopardy.
However, with rain and wind forecast for day two, anything can happen. A case, perhaps, of the calm before the storm.