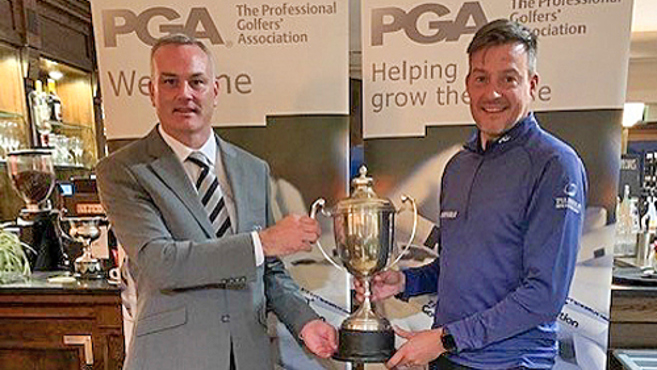 Simon Thornton maintained his purple patch of form to turn the PGA in Ireland Connemara Pro-Am into an exhibition of his skills and a battle for the runner's up berth.
Thornton (above, right), who is attached to Tulfarris Golf Resort, Co Wicklow, completed the two circuits of the stunning Co Galway venue in 12 under par to finish nine shots clear of the runner up, Richard Kilpatrick.
His tour de force display featured successive six under par totals of 66 and saw him signing off in a manner befitting his performance with an eagle at the par five 18th. He also recorded 11 birdies and there was just one blip – a bogey at the par three 13th on day one.
"That was the result of a missed four-foot putt," Thornton explained.
He also attributed his low scoring to having a favourable draw and added: "I got lucky with the draw. I was out early on the Saturday and got round before the conditions changed for the worse. It was case of vice versa on Sunday."
The 44-year-old, who earned €1,800 for his win at Connemara (above), is less able to explain the rich vein of form that has resulted in him not finishing outside the top three in his last six tournaments.
That sequence includes the second PGA EuroPro Tour victory of his career – the Northern Ireland Masters hosted by Jonathan Caldwell at Clandeboye Golf Club, Newtonards.
Thornton completed the 54-holes in 14 under par and set up the two-shot win with an astonishing opening 11 under par round of 60.
"That was undoubtedly the best round of my career," he added. "It came right out of the blue.
"As for my game, my short game is good, I'm holing putts and the ball is going where I want it to go.
"But I wouldn't say I'm in the best form of my life. I'm freewheeling at the moment and not playing in between tournaments. Perhaps that's the secret."
Meanwhile, Kilpatrick, who finished a shot clear of Tim Rice on three-under, had the consolation of leading his trio of amateurs to victory in the team event.
The pro from Banbridge Golf Club plus David Stapleton, Ben Walsh and Sean Walshe, racked up 187 Stableford points over the two rounds to finish six ahead of the field.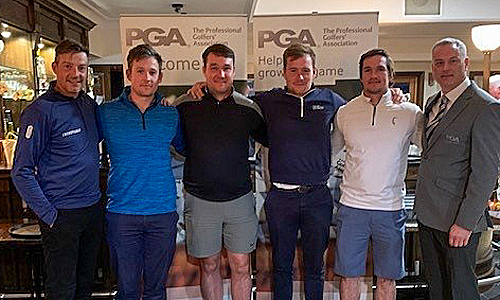 The event was also graced by the presence of Alex, Daniel, William and Andrew McEvoy (above), the sons of Donal, the PING representative for Ireland and loyal supporter of the annual pro-am who passed away a week ago.
"We were delighted to see them," said Conor Dillon, The PGA in Ireland's regional manager (pictured above, far right).
"Donal did a great deal for this event and golf in Ireland and he will be missed greatly.
"As for the event itself – it was a huge success. The venue is in a beautiful location – nature at its very best – and the course was in superb condition. We're looking forward to coming back next year."
CLICK HERE for a full list of scores