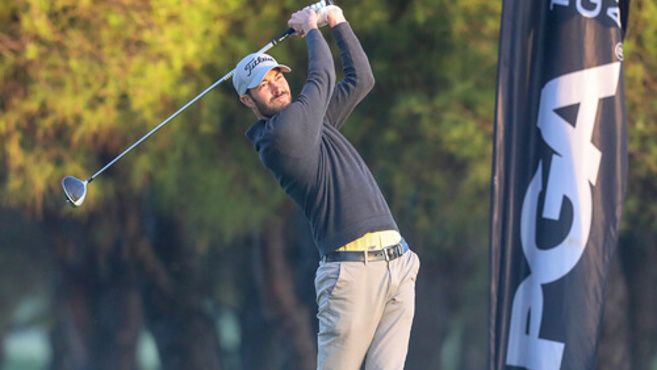 James Watts made a successful defence of the PGA East Region Championship at Bishop Stortford Golf Club but his name will be joined in the record books by those of Mark Talbott and Nicholas Cunningham.
Each ended the 36-hole championship on three-under-par but, unlike last year when Watts prevailed in a play-off to claim the trophy, there were no extra holes to determine an outright winner.
The lack of a play-off was due to players being encouraged to leave the golf club as soon they had finished their rounds to prevent the spread of COVID-19.
As a result they shared the prize money designated for the first three places, each picking up £1,233.
That equality was mirrored throughout the tournament: having posted rounds of 69 to be two-under-par after day one, they delivered more of the same on day two, albeit rounds of 70.
There was one difference, however. Ben Wyatt of the Rayleigh Club who shared pole position with them at the end of the first round dropped out of contention by following up with a four-over-par 75 to finish tied-19th.
Cunningham looked set for the same fate after starting with a double-bogey but made amends at the next two holes. Two more bogeys followed, at four and 15, but birdies at seven, 14 and a timely one at the par-three 17th maintained his position.
Watts and Talbott (pictured), by contrast, made more measured progress, the former recording two birdies and one bogey; the latter making immediate amends for a bogey at five with birdies at the next two holes and erasing a bogey at 13 with a birdie at 16.
Meanwhile, with Wyatt out the picture Paul Maddy of Gog Magog Golf Club, Golf Kingdom's Rob Coles and Max Westcott of Abridge Golf & Country Club, posed the biggest threat to the leading trio. They tied for fourth-place a shot behind the joint-winners on two-under.
In doing so, Maddy posted the best round of the tournament, a four-under-par 67 matched by the home club's David Rickwood and Mark Davis of South Essex Golf Club.
In addition to the prize money, the trio each earned 243.33 Order Of Merit points, a total that has resulted in Talbott usurping Old Fold Manor's Glen Portelli and Nicholas Cains of Swaffham Golf Club as leader.
Full scores can be accessed here