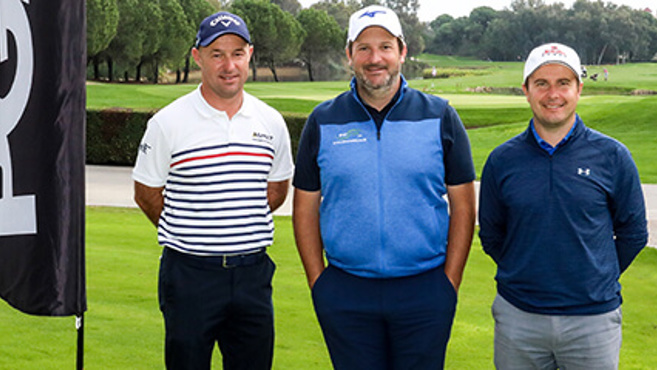 The outcome of the PGA Play-Offs in Turkey means at least three players with experience of being on the winning side in the PGA Cup will line up against the USA next September.
David Dixon, Matt Cort and Rob Coles filled the top three places at Antalya Golf Club and, as a result, will play in the team bidding to record an historic hat-trick of victories in Austin, Texas.
Dixon was a member of the 2015 team that became the first to win the match on American soil while Cort and Coles played in the match at Foxhills two years later.
Their presence in the 10-strong team and the experience they have has delighted Cameron Clark, the captain.
He said: "The quality of the field this week means I've been spoiled for choice as to whoever finished in the top three.
"As things have turned out, I couldn't be happier or in a better place as far as selection goes. They are three great guys who have loads of experience playing golf, especially in the PGA Cup."
Dixon claimed the first of the three spots by winning at Antalya and, recalling the 2015 match, he reflected: "I said to a lot of people I don't think we could top that. It was truly awesome.
"To be going out again wasn't really on my radar. I didn't think about that to be honest – I was just trying to play as well as I could. I'm sure it's going to be an amazing week in Texas as well."
For Matt Cort, the disappointment of missing out on winning at Antalya after leading by three shots going into the last nine holes was tempered by booking his place on the plane to Texas.
He said: "I'm thrilled to make the team. I had such a good time at Foxhills it was a big aim for me to get back in the team for 2019.
"I played well here but Dave had an unbelievable back nine. I made one mistake on 14 which I bogeyed – apart from that I didn't do much wrong.
"There's pride in winning the trophy and a bit more cash at stake.  But the winner and runner up get the same starts – Wentworth, the British Masters and the PGA Cup.
"It's a bit of a cliché but if somebody had offered me second at the start of the week I would have taken it."
Coles, meanwhile, was already bound for Texas as a result of being named as one of Clark's two vice-captains.
However, after finishing as Great Britain and Ireland's leading points scorer in 2017, he was keen to play in the match.
But after two disappointing rounds that saw him languishing down the field on two-over, he was reconciled to missing out. That is until he completed the last round in eight-under-par and defeated Paul O'Hara in a play-off to claim the third place.
"As much as I was looking forward to being part of the team as a vice-captain to be playing is exciting and something I really wanted to do," he said.
"I certainly didn't think about making the team after the first two rounds. I wanted to post a good score for my own pride.
"What happened hasn't quite sunk in because I wasn't expecting it. So I'm thrilled, really excited and surprised."