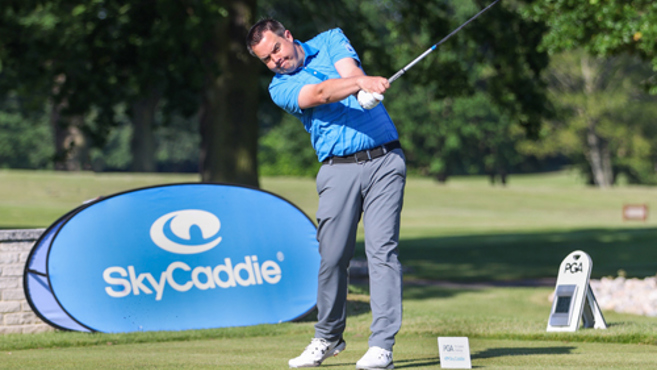 Vale of Llangollen Golf Club duo Matt Davies and Andy Brown were on the same wavelength in round one of the SkyCaddie PGA Pro-Captain Challenge final – unlike the day they qualified for it.
Winning their PGA North regional qualifier involved the pair taking in the architectural splendour of the Humber bridge before realising they were 60 miles off course and should have been in Huddersfield.
"Let's just say there was a misunderstanding between us," explained Davies, the head PGA Professional at the Welsh club.
"Andy was driving and he thought I'd said the qualifier was in Hull. I'm convinced I said Huddersfield."
Having made their designated tee time with five minutes to spare, the pair racked up 46 Stableford points.
Which is the amount they amassed in negotiating the PGA National course at The Belfry to establish a two-point lead in the chase for the £5,000 first prize on offer in the popular competition that is supported by Prostate Cancer UK.
That total included two nett eagles at the par four 14th and 17th holes and a wobble at the turn when they recorded successive bogeys.
"We played well," said Davies (above). "Andy had a good back nine. We gelled really well as a pair – it was very pleasing.
"Now we need to keep it going tomorrow when we play the Brabazon course."
Given the two-ball better ball format, Vale of Llangollen's two-point advantage is a slender one, not least because six of the remaining 11 teams in the tournament are within four points of the leaders.
The Westerham pair of PGA pro Frazer Amey and his club captain, 12-handicapper Peter Sollis, head the chasing pack on 44 points.
And perhaps ominously for their rivals, Craig Cowper, the PGA pro in the Surrey Downs Golf Club pair that won the tournament at Argentario, Italy, in 2019, and his new partner are building up a head of steam.
After a front nine that saw them record two birdies, Cowper and 14-handicapper Wally O'Rourke moved through the gears on homeward stretch.
So much so that they signed off with four successive birdies to lie third on 43 points, three adrift of the leaders.
CLICK HERE to access the full list of scores