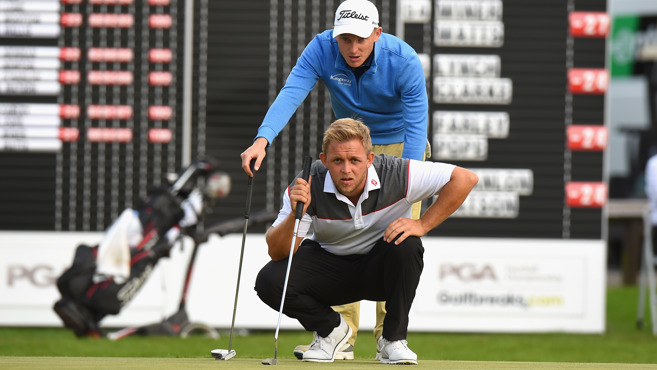 James Watts and Jack Winer will be looking to make their third entry in the Golfbreaks.com PGA Fourball Championship record books when they compete in this year's final at Carden Park next week.
They became the first duo to successfully defend their title when they won the tournament at Farleigh Golf Club, Surrey, in 2019.
Now with the popular competition back on the schedule after a year's hiatus because of the Covid pandemic, the pair are aiming to record unprecedented hat-trick of triumphs.
There is no danger of either of them being 'over-golfed' when they tee off at the Cheshire venue, however.
Winer, the head pro at Abridge Golf and Country Club in Essex, finished third in the PGA East region Order of Merit in 2018 but has not played in either of this year's events, for example.
"I haven't played that much since being made head pro as couple of years ago," he explained.
"A lot of my time has been taken up running the shop. And James is in a similar situation as he runs two golf centres."
The lack of competitive action, however, is unlikely to impair the harmony of their partnership.
They are long-term friends, so much so they each was the best man at their respective weddings, and that is evident in the way they approach the better-ball format of the tournament.
"We dovetail nicely," Winer added. "One of us can be aggressive and the other play more conservatively. So when one of us is out of it there should always be a par on the card if not better.
"And when one of us looks like making a bogey or worse and the other makes a birdie, it's almost like an eagle."
Testament to their teamwork, as well as the victories at Belton Woods in 2018 and Farleigh the following year, is the fact that they have recorded just one bogey in 108 holes.
"If we can repeat that this year then we could be in with a chance of a hat-trick of wins," Winer said.
In addition to the testing Carden Park course, Winer and Watts will find some tough opponents looking to claim the £5,500 first prize. Not least Lee Clarke and Andy Willey.
Willey won the Titleist and FootJoy PGA Professional Championship in 2018 and Clarke, partnered by Jack Lynch, won this event at Carden Park in 2015.
"I've finished first and third there so I'm really looking forward to going back," he said.

"I love it around there, it's a great course.
"And I'll be playing it with my best mate, someone I've known for 20 years."
Other competitors in the 72-strong field include Adam Keogh, the runaway winner of this year's English PGA Championship, and James Freeman, and 2019 PGA Cup team-mates Richard Wallis and Jordan Godwin.
Follow their progress with live scoring here