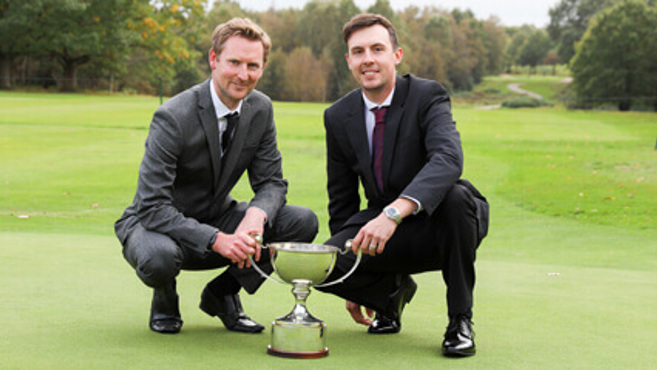 Worcesteshire, in the persona of Simon Gabbitas and Ian Martin, were crowned PGA England and Wales Inter-County Champions at Sutton Coldfield Golf Club, appropriately a venue with royal connections.
King Henry VIII used to hunt in the park where the club's course is located, hence the town's 'Royal' affix.
Gabbitas and Martin, however, were more hunted than hunters in the chase for the £4,000 first prize and quest to have their county's name engraved on the trophy for the first time.
Having begun the second round a shot clear of the 27-strong field, victory was theirs to squander. And that proved to be the margin of victory as the pair held their collective nerve to repel challenges from some of The PGA's most accomplished golfers.
Not least at the final hole when, with defending champions Essex in the clubhouse on 10-under-par after completing the tournament's foursomes leg in three-under, a score matched by Warwickshire but bettered by Bedfordshire and Cambridgeshire's four-under.
Worcestershire were 11-under when Martin teed off at the par-four 18th but a play-off against Essex duo Jason Levermore and Lloyd Kennedy loomed large when Hagley Golf Club's Gabbitas deposited his approach into a greenside bunker. Martin was equal to the challenge, however.
"I do like bunker shots and I was quietly confident on that one," said Martin (above), who is attached to Kings Norton Golf Club.
His confidence resulted in the ball landing close to the hole although, despite the harmony and camaraderie exhibited by the pair over the two rounds, there was a debate as to how far away it was.
Martin estimated a foot-and-a-half. Given the foursomes format which meant Gabbitas was tasked with holing the putt for victory, he countered by adding a foot.
"It was definitely two-and-a-half feet away," he joked. "To be honest when you start realising there's money on it, the tournament's on it and you don't want to let your partner down, the putt seemed a lot longer than it was.
"You can tap those in all day long one-handed but for some reason today, it was hard. But it went in the middle and Ian didn't bring his putter, so he did have faith in me."
Reflecting on the secret of the pair's success despite not having played together before, Gabbitas (above) added: "We're first and second in the county's Order of Merit so that's how we qualified to represent the county.
"But we've known each other for a while and always got on. That was reflected in our game. We enjoyed ourselves and it was a very relaxed and calm environment. We dovetailed well and holed a load of putts. The greens were that good, you expect to hole them.
"This is the biggest achievement of my golfing career and I think it is for Ian as well."
"It's a massive confidence boost for the both of us," his partner concurred.
"There were some very good players in that field – some PGA Cup players and a lot of lads we look up to like Jason Levermore, Matt Cort, James Whatley – players like that. To win in that field is pretty special."
Levermore was a member of the three-man Essex team that won in 2017 and 2018 when the tournament was contested under a different format.
The two best scores from three over two rounds were replaced by one round of fourball better-ball followed by one of foursomes.
In addition, there were no regional qualifiers this year and, as opposed to five finalists, there were 27.
All of which met with the approval of most players, including Levermore.
"Five teams competing at The Belfry didn't really seem a like a tournament," he said. "This had a real tournament feel to it. The increased number of teams meant there were many more good players competing and I liked the format as well."
Levermore's enthusiasm was echoed by Gareth Davies who represented Cheshire and North Wales.
"It was a great event and I really enjoyed the new format," he said.  "Sutton Coldfield Golf Club was outstanding, the greens were pure and everyone enjoyed playing it."
Leading scores: Worcestershire 133 (-11); Essex 134 (-10); Devon 135 (-9); Bedfordshire & Cambridgeshire, Northamptonshire 136 (-8).