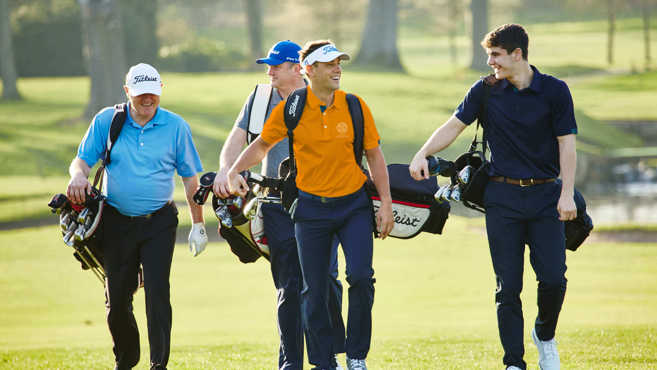 As part of the Association's 2020 Vision initiative, we want to help those in the Business Management Group (BMG) and Club Volunteer (CV) Groups to better connect with their peers and the wider golf industry.
The PGA's networking and golf events proved to be the perfect vehicle for that, bringing people together from all different sectors of the golf industry in a relaxed and informal setting, helping them to forge and develop new relationships.
Despite the disruption of the COVID-19 pandemic, many members of the Association's Business Management and Club Volunteer Groups – all well as PGA Members - attended a number of exclusive PGA events this year.
These networking and golf events were hosted throughout the UK and Ireland, from Roganstown Hotel and Country Club, north of Dublin, to Sunningdale Heath Golf Club near Ascot.
Attended by delegates in a variety of management and other roles within the golf industry, the events enabled those present to build their professional networks, hear from expert speakers and collaborate to share best practices… as well as enjoying a friendly round of golf.
Reflecting on the 2021 schedule, Joe Kelly, Head of Membership Support at The PGA, commented: "It was wonderful to gather with colleagues from across the industry after so many months of disruption. The events were a great way to renew relationships and create new ones. The feedback from those who took part was very positive.
"Many of the topics that affect everybody in the game were discussed, including the impact of the COVID-19 pandemic and the knock-on effect in terms of participation. We also covered strategic items like retention of customers and the importance of creating the right environment to ensure a customer experience that meets their expectations."
Accessible to all Business Management Group and Club Volunteer Group members, in addition to PGA Members, The PGA's networking events are the perfect way to connect with a wide variety of industry colleagues, as well as hearing from guest speakers and panellists.
John Shortt, Director - Irish Golfer magazine, attended a recent networking event at Roganstown Hotel & Country Club. He commented: "The Business Management Group is a superb opportunity for PGA Members and non PGA golf industry members to meet and network in a relaxed setting.
"The topics covered are varied and encourage discussion and the sharing of ideas on issues and problems facing clubs and the wider industry. I'd encourage all PGA members and anyone involved in the golf industry to get involved, learn from the experiences of others and make connections that can make a real difference in your career and your business."
Further details on networking and golf events in 2022 will be communicated in the coming months.